New Title Coming to "Nobunaga's Ambition" series strategy game set in feudal Japan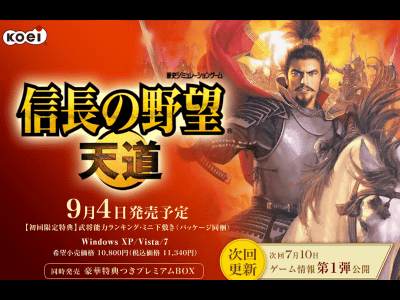 (This article was originally posted in Japanese at 19:08 Jun. 26, 2009)

Since its first release in 1983, Nobunaga's Ambition series video games by Koei has been undoubtedly the most popular historical simulation game in Japan. A new title of the series was announced by Koei Tecmo, to be released on September 4th, 2009.

Read on for details.
Nobunaga no Yabou: Tendo

In Nobunaga's Ambition series set in Sengoku period the player is tasked to conqueer and unify Japan. You can choose your hero from Oda Nobunaga and other popular regional daimyos of the time. "Nobunaga no Yabou: Tendou (Nobunaga's Ambition: Deva Realm)" will be the 13th title of the series, first release in four years.

Gameplay inherits the "real-time system" in which you can take care of domestic affairs and conflicts on the way of your conquest on a single map at the same time, first introduced to the series in last title Nobunaga no Yabou: Kakushin. "Settlement system" will be newly introduced, which allows you to dominate settlements outside your border by building road to connect them to your castle. Battle system is improved as well.

To be released on Friday, September 4 at the price of 11,340 yen. "Premium Box" bundled with soundtrack and stickers and other special features will also be on sale for 13,440 yen.

Some more information is to come out on the official website on July 10.

Related Posts:
Top 10 Video Games that Made People Cry - GIGAZINE

"DEAD OR ALIVE Muso" coming?? Koei Tecmo is to release the game mixing their masterpieces - GIGAZINE

2nd Season of "Sengoku BASARA" launching in 2010 - GIGAZINE
in Game, Posted by darkhorse_log