Only one game can be saved in "Dragon Quest IX"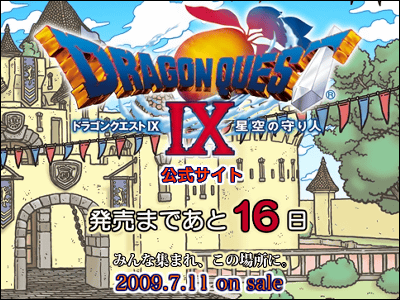 (This article was originally posted in Japanese at 14:23 Jun. 25, 2009)

Square Enix's Dragon Quest IX Hoshizora no Mamoribito is finally to be released on July 11, for Nintendo DS. Today a surprising detail came out.

Apparently, you can only keep one saved game in "Dragon Quest IX". In former titles of Dragon Quest series you were allowed to save multiple datas so you could cover the risk when making crucial decisions like choosing which member of your team should become a Sage in Dragon Warrior III or who to marry in Dragon Quest V: Hand of the Heavenly Bride. Looks like you have to take chances in the new title.

Read on for details.
(Japanese)Savegame in Dragon Quest 9: GAME SHOP 1983

According to the official blog of "Game Shop 1983" located in Hokkaido, product description on the package of "Drangon Quest IX" specifies that only one saved game could be kept.

This will make it impractical to share the game with your family or lend it to a friend. Might be an attempt to encourage customers to each buy their own copy.

The notice makes it abundantly clear that only one data could be saved.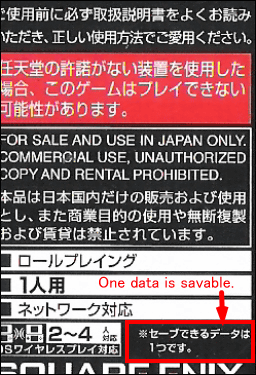 This never occurred in the past Dragon Quest titles. And this is not the result of it being a Nintendo DS title since you could save multiple datas as well in Dragon Quest IV: Chapters of the Chosen and Dragon Quest V: Hand of the Heavenly Bride ported to DS.

The reason is unclear, but maybe it has something to do with the multiplayer networking system which is introduced to the Dragon Quest series for the first time in Dragon Quest IX.

Related Posts:
Top 10 Video Games that Made People Cry - GIGAZINE

New Square Enix RPG "Blood of Bahamut" - GIGAZINE

Square Enix launched mysterious web site for their oncoming game - GIGAZINE

Toys and Games you can touch and play at Japan Media Arts Festival - GIGAZINE

SQUARE ENIX Press Conference Report: Acquisition of Eidos known for Tomb Raider - GIGAZINE