2nd season of underclothed anime "Queen's Blade"announced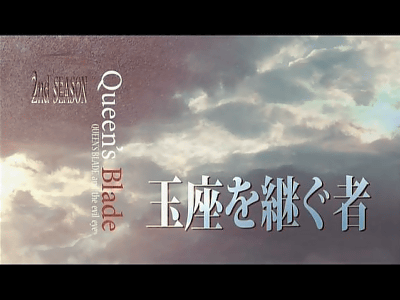 (This article was originally posted in Japanese at 11:43 June 18, 2009.)

It's June. The year 2009 is almost half over. It's the season for new anime announcements.

The ongoing anime "Queen's Blade" is notorious for its wavy movement of boobs and too much exposure. The second season of the anime was announced just after its conclusion on June 17.

Read on for detail.

(JP)Anime PR man's blog: Whew! At last I can unveil it! QB 2nd season!

The original "Queen's Blade" started as a unique interpretation of Lost Worlds Combat Picture Books. It's really a game for, say, boys who like the armor broken and exposures enlarged. The airing started this April and it soon became popular for the half-naked costume of female fighters.

Its number of characters is also talked about. Actually, there's too many. There were some characters who only flashed by and had no lines. So the 2nd season is necessary.

The 2nd season is titled "Queen's Blade: The One to Inherit the Throne", according to the announcement. There were too much censoring in the first season to know what was going on, whose hand's on whose what and which sword penetrating where... We understand that they need to gather audiences to please their sponsors. But eroticism is not the only way to gather male viewers, we think.

(JP)Queens Blade Official Site
http://queensblade.tv/

Related Post:
TAF 2009: Character Designs Disclosed of 19 Bombshell Female Warriors from "Queen's Blade" - GIGAZINE

List of New Anime Series launching Spring 2009 - GIGAZINE

2nd Season of Sci-Fi Action Anime "DARKER THAN BLACK" on the way! - GIGAZINE

2nd Season of "Melancholy of Haruhi Suzumiya" starting from this April - GIGAZINE

2nd Season of "Sengoku BASARA" launching in 2010 - GIGAZINE


2nd season of the anime "Nogizaka Haruka no Himitsu" in production - GIGAZINE


Second anime season of "Strike Witches" announced - GIGAZINE
in Anime, Posted by darkhorse_log