2nd Season of Sci-Fi Action Anime "DARKER THAN BLACK" on the way!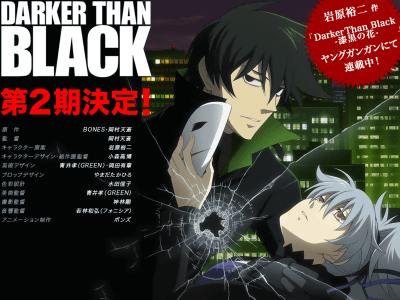 (This article was originally posted in Japanese at 16:47 Jun. 05, 2009)

Darker than Black: Kuro no Keiyakusha by Bones is a sci-fi action centering cold-blooded assassins with paranormal abilities called "Keiyakusha (lit. Contractors)". With its intriguing plot and high-quality animation, the series gained huge popularity during its airing in 2007, has been adapted to two manga series (a shojo manga and a seinen manga).

Now it became clear that a much awaited anime sequel is on the way.

Read on for details.
DARKER THAN BLACK
http://www.d-black.net/

The 25 episodes of DARKER THAN BLACK were aired during April to September, 2007 on TBS and MBS network. It was a brainchild of Tensai Okamura known for WOLF'S RAIN and Project Blue Earth SOS who did the original story, direction and series composition.

There's no airing information apart from the words "Dai2ki Kettei! (lit. 2nd season decided!)" but the staff seem to be mainly the same as 1st season. Looks promising.
Original Story: BONES, Tensai Okamura
Director: Tensai Okamura
Original Character Design: Yuji Iwahara
Character Design, Chief Animator: Takahiro Komori
Background Design: Takashi Aoi(GREEN), Ariaki Okada
Prop Design: Takahiro Yamada
Colour Composition: Nobuko Mizuta
Chief Background Artist: Takashi Aoi(GREEN)
Cinematographer: Go Kanbayashi
Sound Director: Kazuhiro Wakabayashi
Animation Production: BONES
There's nothing about the characters or synopsis yet, but a new manga adaption Darker than Black: Shikkoku no Hana by Yuji Iwahara, the original character designer for the anime, is being serialized in Young Gangan since May 15 (the magazine's 11th issue). Maybe the anime will follow the manga's story?

Related Posts:
List of New Anime: Summer 2009 - GIGAZINE

"Angel Beats!", the new animation by "CLANNAD" and "AIR" producer in progress - GIGAZINE

Anime adaption of "Umineko no Naku Koro ni" starts airing July - GIGAZINE

Sneak Preview of "Spice and Wolf II", the second anime season of Spice and Wolf starting this July - GIGAZINE
in Anime, Posted by darkhorse_log