"Kochikame", the longest-running manga adapted to Live-Action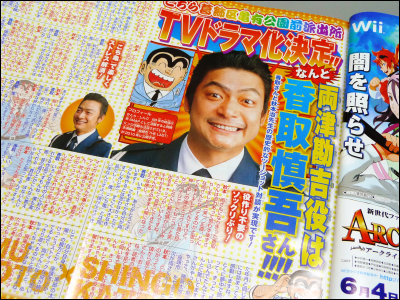 (This article was originally posted in Japanese at 12:01 Jun. 01, 2009)

Kochira Katsushika-ku Kameari Koen-mae Hashutsujo by Osamu Akimoto, serialized in Weekly Shonen Jump since 1976, is the longest-running manga series in history. The tongue-twisting title (often abbreviated "Kochikame") literally means This is the Police Box in front of Kameari Park, Katsushika Ward.

A TV show based on this manga was announced, starring Shingo Katori of Japanese idol group SMAP as the peculiar police officer Kankichi Ryotsu (a.k.a. Ryo-san).

Read on for details and pics.
The 27th issue of Shonen Jump came out today, with Shingo Katori and Ryo-san on the cover.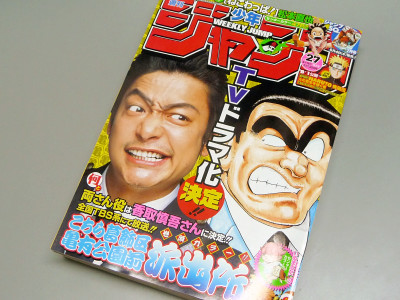 Ryo-san and his boss seem thrilled.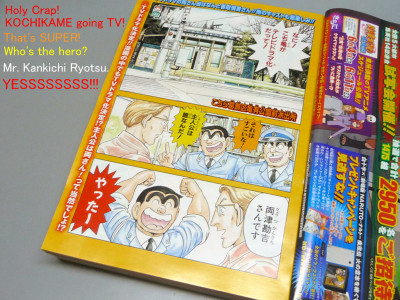 Feature page with interview of Shingo Katori and the author Osamu Akimoto.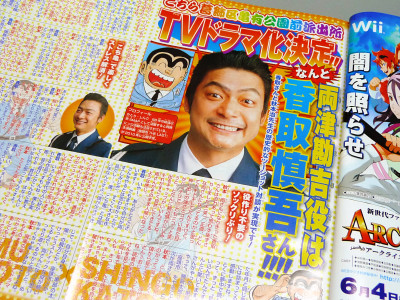 The TV series will be aired on TBS network. Aside from that, details such as other cast, staff and airing date are as yet undisclosed.

Related Posts:
Tezuka's Darkest Manga "MW" adapted to Live-Action Film - GIGAZINE

Trailer of "Kamui Gaiden", live-action film adaption of the Ninja Manga Classic - GIGAZINE

Top 15 Most Captivating Manga at the Moment - GIGAZINE

Who is ultimately the strongest anime/manga character in the universe? - GIGAZINE

in Note, Posted by darkhorse_log