Realtime Updating; NTT docomo revealing New Models for Summer 2009, including Evangelion Phone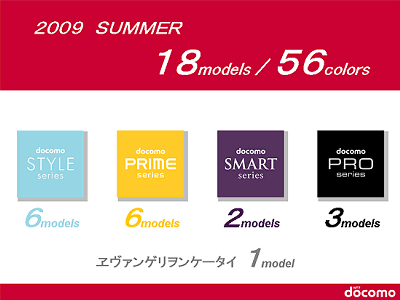 (This article was originally posted in Japanese at 13:00 May 19, 2009)

NTT docomo holds today a press conference, announcing their handset lineup for Summer 2009.

We're updating this post as the new models are unveiled.

Read on for details and pics.

Updated 13:47 May 19, 2009.
18 new models will be unveiled today, including 6 models in STYLE series, 6 in PRIME series, 2 in SMART series, 3 in PRO series and one EVANGELION phone.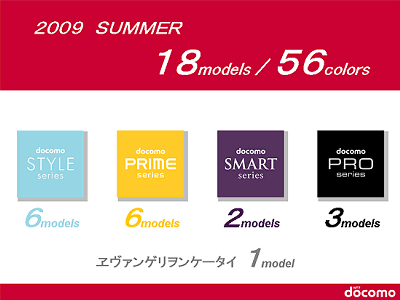 The sales figure. STYLE series is selling best.


More than a million subscribet to "i Concier" service which provides informations suitable for your location, in mere five months since its launch.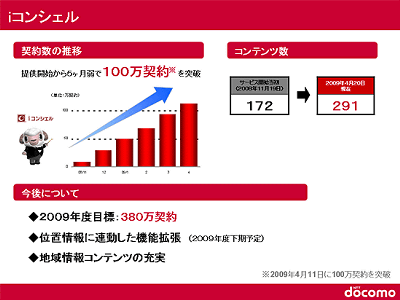 Major improvements for i-mode browser. Now you can browse up to 500KB per page.


You can text by speaking, using the "Voice Input Mail Creator".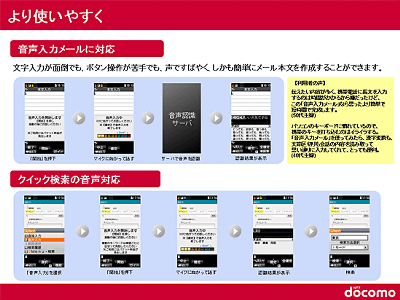 The new battery gage has 5 level.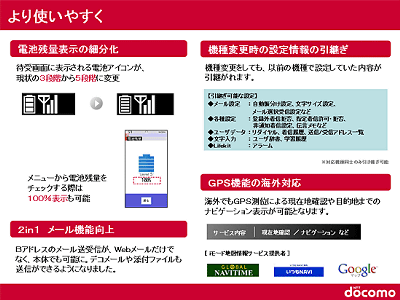 6 models in STYLE series.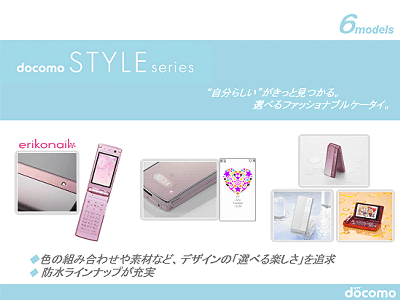 Includes waterproof cell phone F-08A, simple slide-phone L-04A with touchpanel and N-08A with 8.1M pixel camera.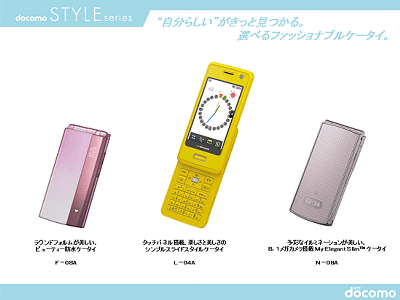 P-08A with 8.1M pixel camera, water-proof double-sided model P-10A, and waterproof SH-05A with 8M pixel camera.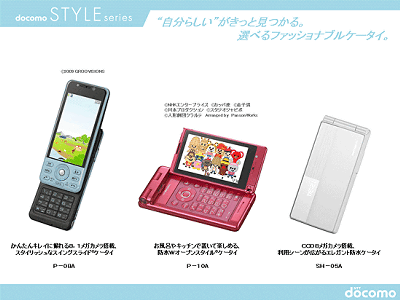 6 models in PRIME series. includes model with 10M pixel camera, and high speed model with communication rate of 5.7Mbps(Up).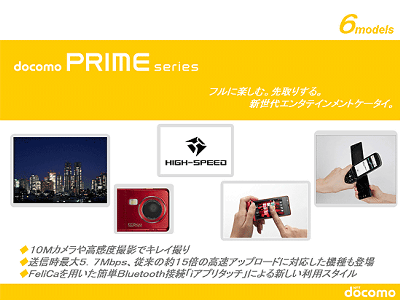 High-spec large touch-panel display model F-09A, L-06A Google phone with touch panel and N-06A with 8.01M pixel camera, touchpad and wireless LAN.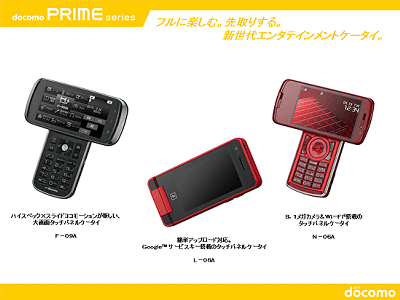 SPORTS EDITION N-07A, VIERA Phone P-07A with 8.1M pxel camera, and AQUOS SHOT SH-06A with 10M pixel camera.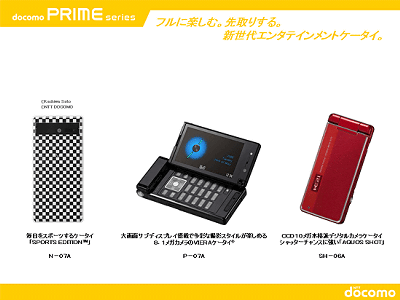 2 new models in SMART series.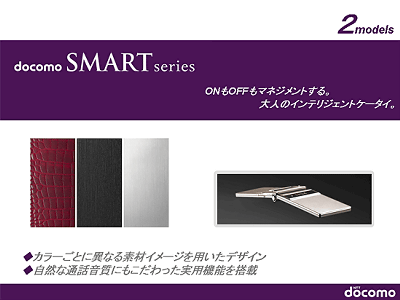 Slim and smart N-09A with 8.1M pixel camera, P-09A 12.5mm thin with "Natural Talk" audio function.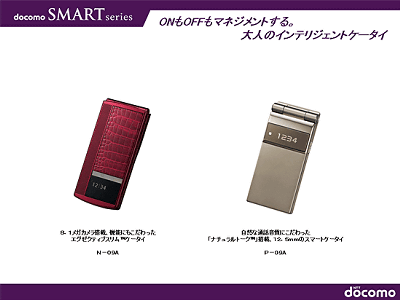 3 models in PRO series.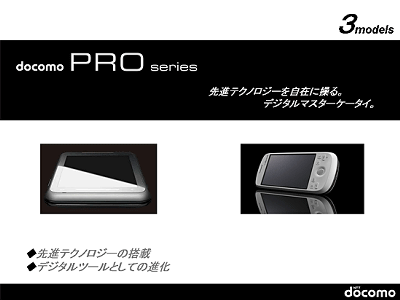 Android Phone HT-03A a.k.a. HTC Magic, Toshiba's super-smart phone T-01A carrying 1GHz CPU and AQUOS Phone SH-07A featuring double-1seg reception.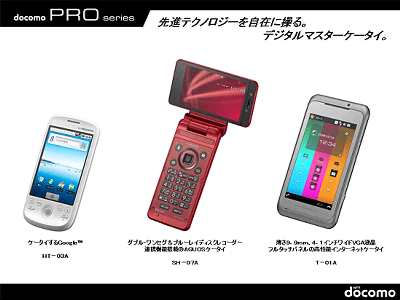 "NERV Phone"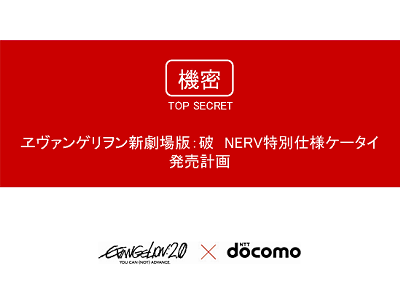 Developed with the concept of "NERV-furnished equipment", under supervision of director Hideaki Anno.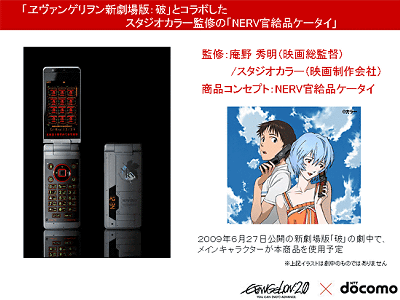 Original cover-skins and pics included.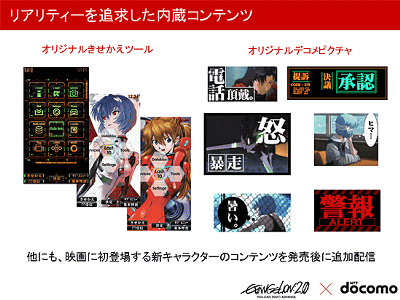 Accessories.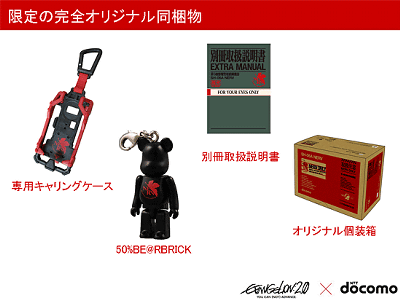 Limited release of 30,000 set.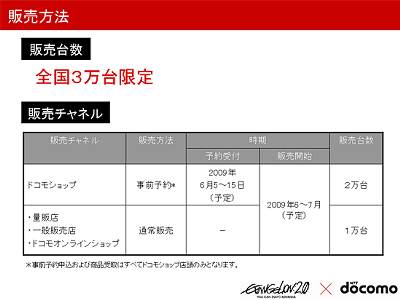 Model numbered "SH-06A NERV".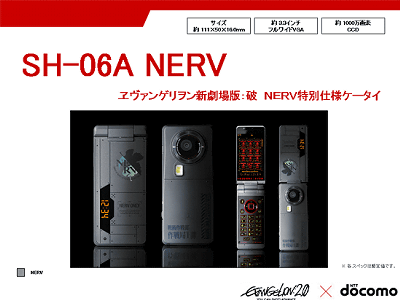 To make an appearance in the movie.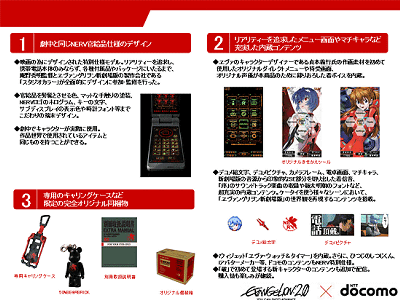 Related Posts:
2008 Autumn/Winter model Cellular Phone of NTT DoCoMo - GIGAZINE

EVANGELION Phone Coming Soon by NTT docomo - GIGAZINE
in Mobile, Posted by darkhorse_log