EVANGELION Phone Coming Soon by NTT docomo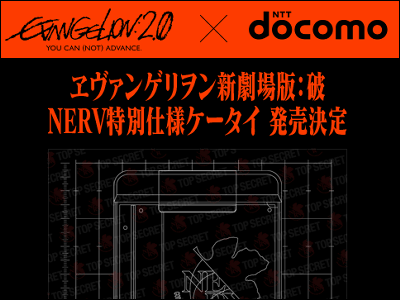 (This article was originally posted in Japanese at 09:38 May 18, 2009)

Some of you might remember the special Char Custom cell phone 913SH G TYPE-CHAR featuring our favourite antagonist from Mobile Suit Gundam, released in December, 2007 by softbank.

And another anime-themed cell phone is to come out, this time by NTT docomo, collaborating with the movie Evangelion: 2.0 You Can (Not) Advance.

Read on for details and pics.
(Japanese)EVANGELION2.0 X NTT docomo

According to this special website, "Evangelion Shin Gekijo-ban: Ha NERV Tokubetsu shiyo Keitai (Evangelion: 2.0 You Can (Not) Advance NERV Custom Cellphone)" is to be released by NTT docomo.

It says "Details to be announced soon", "Realistically designed, accessories and packaging as well as cell-phone itself supervised by director Hideaki Anno and Studio Khara."

The form of the "NERV Phone". NERV's logo and warning sign "NERV ONLY" can be seen, and LCD clock on the outside is designed to look like the meter indicating the time left until activity limit of the robot.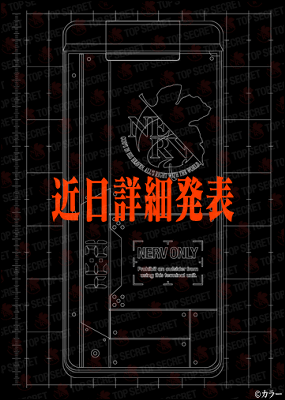 Details such as specifications, price and the release date are expected to be disclosed at NTT docomo's press conference held tomorrow.

There are some images of a brochure on the site below. Not officially distributed yet, but it looks suspiciously real.

暇人\(^o^)/速報 まさかのエヴァ携帯発売決定wwww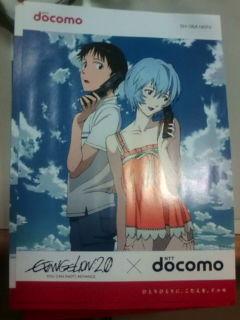 Related Posts:
Latest Trailer of "Evangelion: 2.0 You Can (Not) Advance" Relaesed - GIGAZINE

The advance film ticket of "Evangelion: 2.0 You Can (Not) Advance" on sale, and Asuka's name changed - GIGAZINE

Special Evangelion-Illustrated Canned Coffee released, with chance of getting special figures! - GIGAZINE

Imposter of Evangelion: 2.0's Takeshi Honda resigned his teaching job - GIGAZINE