Video of whole procession in Kyoto's ancient "Aoi Matsuri" festival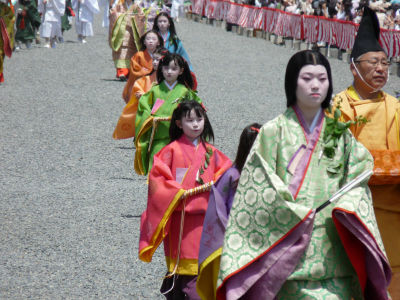 (This article was originally posted in Japanese at 23:21 May 15, 2009.)

You will be surprised at how difficult it is to find videos of the procession of Aoi Matsuri(lit. Festival of Malvaceae flower). So, for your convenience, we took videos of whole procession. It's quite flowing and elegant, matching with antique appearance of the Imperial Palace of Kyoto.

Read on for detail.

Mounted policemen of Kyoto prefectural police


First batch of procession. Looks like the horse is giddy a bit.


Halting in front of the paid seat.


The move is so tender and elegant.


It's so quiet a festival.


1400 year's history does gives something to this festival


Furyu Gasa, the decorated umbrella


And another decorated umbrella.


The second batch of the procession, "Saiou dai retsu" the sherman's line. The ladies with umbrella are "Myobu", middle-class chamberlain.


"Saiou Dai" the sherman carried with palanquin holding cypress fan in her hand.


Cute children


Following is "Munanori Onna", the sherman's riding servant.


Sherman's ox carriage


Related Post:
Amano-Yasugawara, sacred places for 8 million gods of Japan - GIGAZINE

Cherry Blossoms of Yoshino in the night-time - GIGAZINE

Power Spot "Karube Shrine" Dedicated to Women's Breast - GIGAZINE
in Video, Posted by darkhorse_log