Videos of Sento-kun and his Girlfriend-to-be at Taima Temple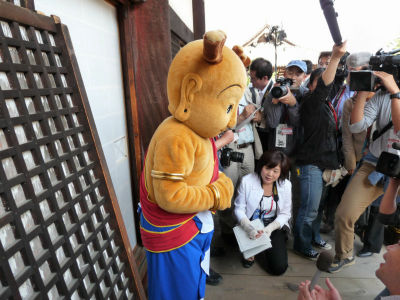 (This article was originally posted in Japanese at 19:24 May 14, 2009)

Taima-Dera (Taima Shrine)'s annual festival was held on May 14th. Nara's mascot Sento-Kun and the new mascot charcter of Katsuragi city made an appearance.

So here's our video report of the event. Watch them move!
The excitement building up for the event.


Sento-kun and the new mascot(no name yet) of Katsuragi city came on stage. Kids were screaming Sento-kun's name.


The music came on. They started walking on the bridge, escorted by mayors.


Waving hands. Being a mascot must be a demanding work, especially in the heat.


On their way back.


Waving to the audience and the press.


Time to go home. It was a short rendezvous, but after all Sento-kun is a busy guy, being superstar and all.


Sento-kun being interviewed. Coyly answering questions like "What did it feel like, holding hands with a girl for the first time?", "Did you hit it off?" and "Are you planning a second date?".


Related Posts:
We've visited Taima Temple to see Nara's mascot Sento-kun and his Potential Girlfriend - GIGAZINE

Mascot of Katsuragi City Asks Sento-kun Out - GIGAZINE

Cherry Blossoms of Yoshino in the night-time - GIGAZINE