Leak: the next iPhone may come with high-speed CPU and 32GB HDD

(This article was originally posted in Japanese at 12:35 May 13, 2009.)

Since this February, there have been several rumor about "the next iPhone", like "there will be a simplified iPhone as a low-end handset" or so. Maybe some official announcement is to be made soon. A leak on the next iPhone came out from a Chinese web forum, with spec description and a screenshot.

Read on for detail.

Chinese Forum Poster Describes Next Generation iPhone Details - Mac Rumors

According to the article, the image which is considered to be the screenshot of the next iPhone was posted on this Chinese web forum.

This is the screenshot. The size of the HDD is indicated 29.3GB, which means the 32GB model is to be in Apple's lineup. The version of OS will be 3.0 and "MB717LL" is to be set as a model number. AT&T takes charge as a telecom operator continuously.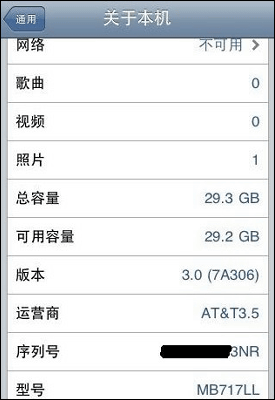 There will be little change on the battery and display. But CPU will be But CPU will be strengthened from 400Mhz to 600Mhz, and main memory is to be enhanced from 128MB to 256MB. Electrical compass, FM tuner and 3.2M pixel camera will be featured.

This news is based on the leak, so there's no certification on the credibility. But if this is true, it will be somewhat massive power up since its first coming out.

2009 Spring model cell phone of SoftBank announced - GIGAZINE

KDDI revealed today new cell phone lineup for 2009 spring sales - GIGAZINE
in Posted by darkhorse_log