CyberConnect2 of PS3 "Naruto" is now developing a new game for PS3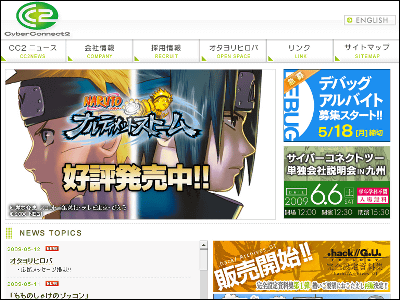 (This article was originally posted in Japanese at 12:20 May 12, 2009.)

CyberConnect2, famous for its PS3 adaptation of big-hit ninja comic "Naruto" and grandiose multimedia saga ".hack" , is now revealed to be developing a new game for PS3.

The company's "Naruto: Ultimate Ninja Storm" is famous for it's anime-you-can-control graphics combined with dynamic gameplay. Whatever the title will be, it's gotta provide us really cool experience.

Read on for detail.

(Japanese)Recruit | CyberConnect2 - Game Company of Fukuoka

According to the Poster announcing CyberConnect2's company presentation event, they say that they are now working on the game on Nintendo DS and PlayStation3.

This is the actual poster. The event is held to recruit new members for game development. The sentences in the middle green rectangle say that they put a hand on DS and PS3 games.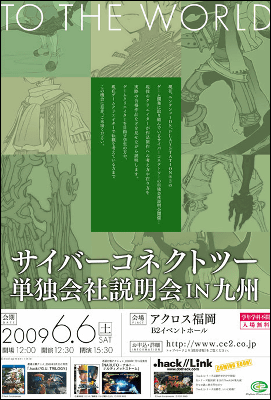 It's pretty sure that "New DS title" will be the sequel to "Tail Concert", as they have been announcing since 2007.

For PS3, there are a lot to offer. One we can think of is the sequel to their successful "Naruto" game. Another one is the continuation to the wide-known RPG series ".hack", which is waited by many enthusiastic fans. And there are some possibilities of totally new game, which we recently reported as Bandai Namco Games' unnamed new title for PS3.

Related Post:
The latest game footage of "Modern Warfare 2" revealed - GIGAZINE

Another Bandai Namco's "New RPG" coming for PS3, with no names shown - GIGAZINE

Square Enix launched mysterious web site for their oncoming game - GIGAZINE

Fighting Game "MARVEL VS. CAPCOM 2: New Age of Heroes" to be released for PS3 and Xbox360 - GIGAZINE