Characters of Kagoshima's Car Tax Campaign definitely look like Pretty Cure Rip-Off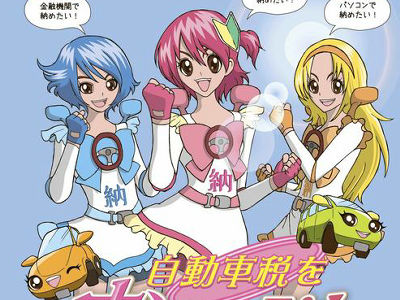 No, these aren't new members of Pretty Cure. These are the original characters for Kagoshima Prefecture's campaign poster to remind vehicle owners of their tax.

Read on for details and pics.
(Japanese)Kagoshima Prefecture: Your Auto Tax is due payment by June 1st

In Japan, vehicle tax is levied by each prefecture and since the period for tax payment is during May every year, many prefectures launch their campaign to prompt tax payment. Apparently, Kagoshima came up with a "pretty" tactic.

They're called "Osame-tai" which can mean Team OSAME(the Chinese character "隊(tai)" stands for team) or I wanna pay tax.


The beginner drivers' sign on her head, wing mirrors on the shoulder and steering wheel on the bow. The Chinese character on her belly is "納(No)" that stands for payment in the word "納税(No-zay: tax payment)".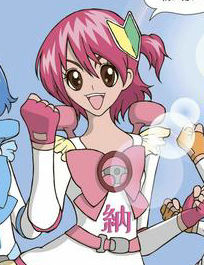 Whether intentional or not, the striking resemblance to the popular anime has caught huge attention on the Internet. Not a bad thing if many people are reminded of their car tax.

Related Post:
Virtual idol "Securina" produced by Ministry of Economy, Trade and Industry - GIGAZINE

Mascot of Katsuragi City Asks Sento-kun Out - GIGAZINE

New Character "Neon" designed by Noizi Ito to promote Nipponbashi - GIGAZINE

A poster for municipal event of Osaka has too much impact - GIGAZINE