"Moe" Soy Cookies featuring Bishojo Characters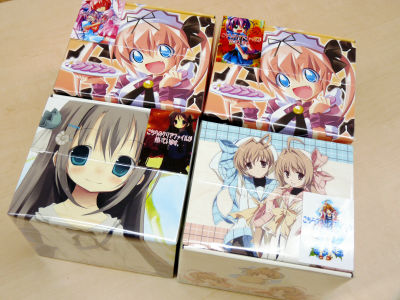 (This article was originally posted in Japanese at 23:12 May 01, 2009)

Moe merchandise is rapidly spreading into the food industry and with the success of Comic Green Tea, Moe Beef Curry and the likes, more and more distributers seem eager to follow the marketing trend.

One of those newcomers is the nutritious soy-based cookies featuring bishojo characters designed by popular illustrators Shiro, Hakone Odawara and Shun Kazakami, launched on May 1st.

Read on for details and pics.
"Hina chan no Tonyu Cookie (Hina's Soy Cookie)", Character design: Shiro.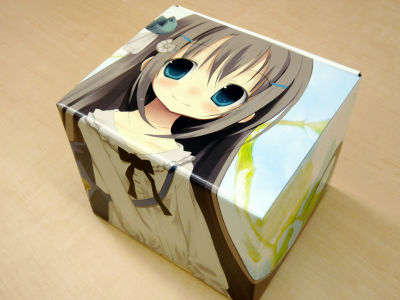 Featuring a shy 11-year-old Hina Yuzuna. Born on Dec. 24, she likes knitting and her dream is to be a nursery teacher.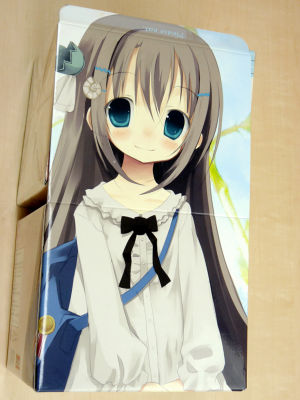 A picture postcard inside.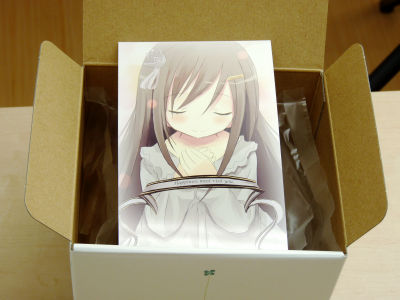 Black sesame flavoured cookies.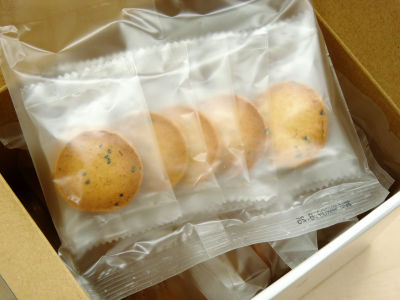 "Haruka to Kanata no Tonyu Cookie (Haruka and Kanata's Soy Cookie)" Character Design: Hakone Odawara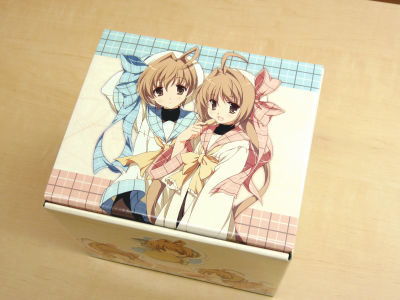 Fraternal twins Haruka and Kanata Hoshino, age 12. Their birthday is Feb. 20, but Haruka with the pink scarf is the elder sister. Haruka's dream is to be a pastry chef and her favourite pastime is to tease Kanata.


Kanata, the younger sibling wearing blue scarf is a shy and timid boy who aspires to become manly. Sunbathing in a quiet place is his favourite pastime.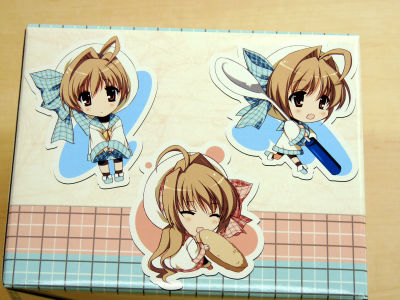 Postcard.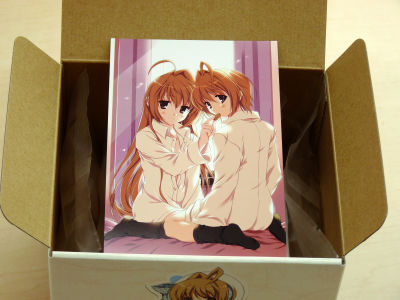 Plain soy cookie. Taste strongly like soy-milk.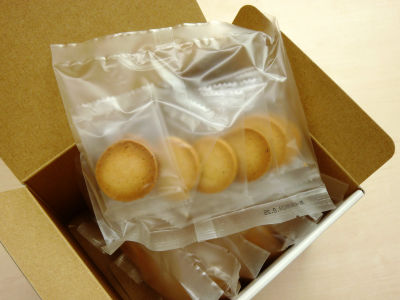 "Mii tan no Tonyu Cookie (Mii's Soy Cookie)" Character Design: Shun Kazakami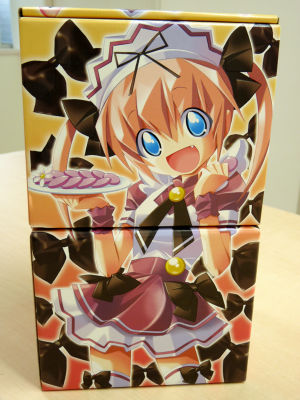 Mii Benizakura, a 16-year-old born on Jan.1. Aspiring to be a house-maid who can dance and sing, she pursues physical fitness as a hobby. Has a younger sister.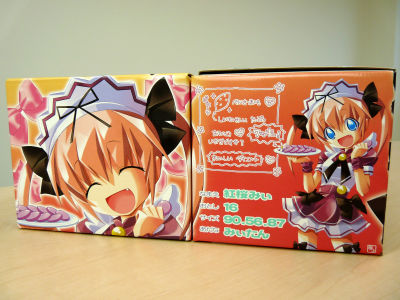 Little comic strip on the lid.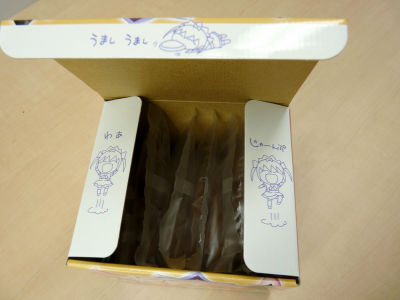 Postcard.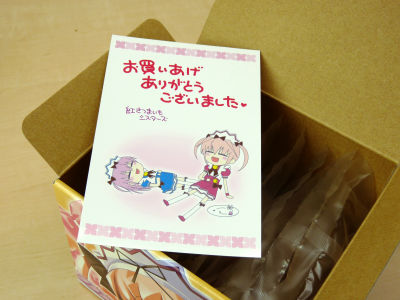 Red-sweet-potato flavoured soy cookies.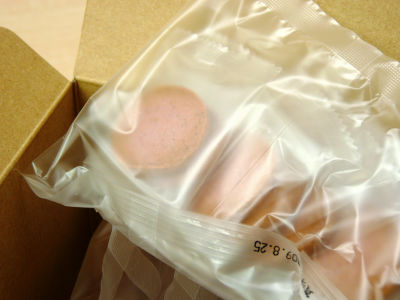 The box of cookies come with plastic folders, one folder per box. Each illustrator designed four folders themed on each seasons, so there are 12 kinds in all.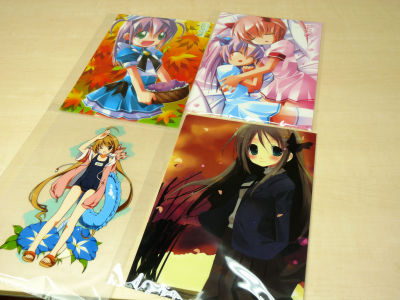 WebMoney card (worth 500 yen) comes as a freebie, one card per three boxes. Wafuwafu Mail-order provides four-box set of each illustrator, so you can collect all four plastic folders by your favourite illustrator.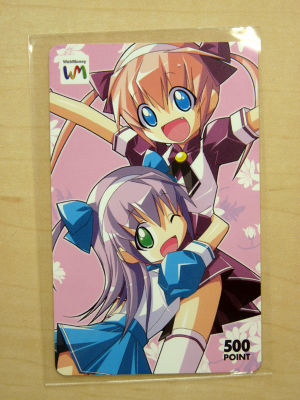 The box without Moe is the regular version "Soy Cookie".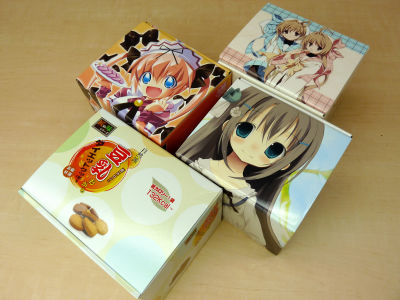 The illustration must make a whole lot of difference.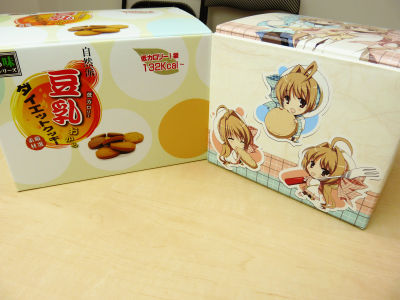 All ingredients are domestic product.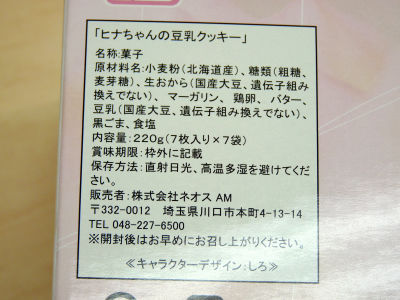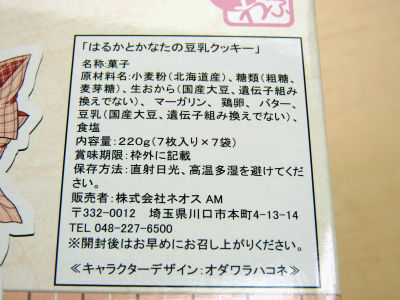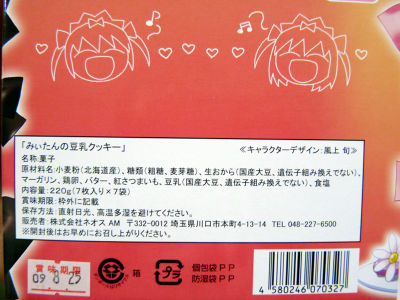 132kcal per serving (1 bag), low-fat and high-protein. Available online via WafuWafu, instore at dojin shop Toranoana and MelonBooks chain. 3,129 yen (about 32 USD, including tax) per box (7bags).

Related Posts:
Taste of Komachi - Dojin Rice "Toho Akitakomachi" of Touhou Project sold at Touhou-Con - GIGAZINE

"MoeSD" -the Micro SD featuring MOE-able characters released - GIGAZINE

Delicious "Moe" Beef Curry with huge chunks of meat, in a package illustrated by Aoi Nishimata - GIGAZINE

Geekiest Refreshment ever! "Comic Green Tea" on sale Exclusively at Tokyo Big Sight - GIGAZINE