Mascot of Katsuragi City Asks Sento-kun Out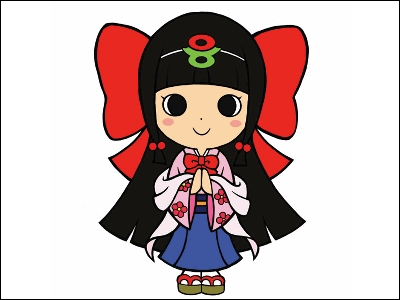 (This article was originally posted in Japanese at 17:39 Apr. 27, 2009)

The city of Katsuragi, Nara Prefecture is holding an unheard-of event on May 14th, 2009 at Taima-dera temple, coinciding the temple's annual ceremony.

In the event, the new mascot character of Katsuragi city will appear along with Sento-kun, the mascot of The 1300th Anniversary of Nara Heijo-Kyo Capital. In the 10-minutes performance, they'll cross "Raigeibashi(Raigei-bridge)" hand in hand, swaying to progressive trance music. There she'll declare her love and announce her candidacy for "Sento-kun's Girlfriend".

Read on for details and pics.
(Japanese)Katsuragishi, Nara - Our Mascot Character attending an Event

Katsuragi city was founded on October 1, 2004 when the town of Shinjo and Taima merged to form one new city. Taima-dera temple is one of the biggest tourist attractions in the city, with the legend of Chujo-hime (Princess Chujo).

Princess Chujo lost her mother at a tender age and was bullied out of the house by her step-mother. She went in to religion and joined Taima-dera. As the legend goes, she has woven a 16-square-meters Mandala single-handedly in one night when she was 17, using threads made from lotus. The Mandala depicts the teachings of the Buddha with images such as Amitabha, Kannon (the goddess of mercy), and the Bosatsu of wisdom, and what Nirvana looks like. It is called Tsuzureori Taima Mandala-zu and still remains today at Taima-dera as the object of worship.

And of course, the new mascot of Katsuragi-city is themed on this legendary Princess Chujo.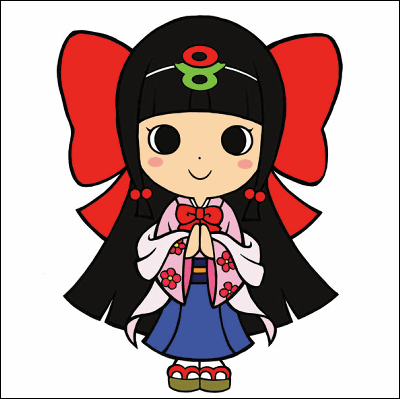 She visited Sento-kun on April 22nd, handed a letter asking him to the ceremony.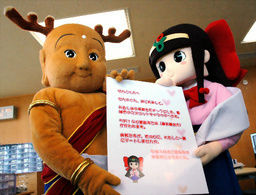 This is Sento-kun. "Sento" means "relocating the capital".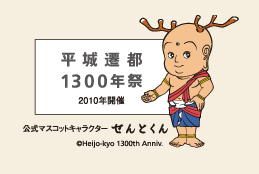 Maybe it's about time Sento-kun started courting, but won't such a public proposition shy him away?

By the way, the name of Katsuragi city's new mascot character will be publicly sought after the event on May 14th, and her official name will be decided and announced on June 28th.

Related Posts:
Cherry Blossoms of Yoshino in the night-time - GIGAZINE

New Character "Neon" designed by Noizi Ito to promote Nipponbashi - GIGAZINE
in Note, Posted by darkhorse_log