Anime adaption of "Umineko no Naku Koro ni" starts airing July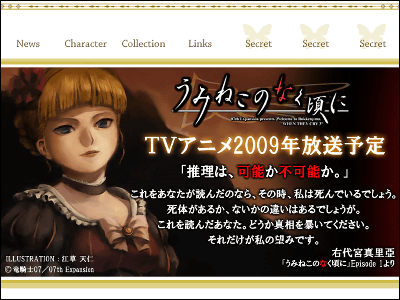 (This article was originally posted in Japanese at 00:33 Apr. 23, 2009)

Another anticipated title for this summer, in addition to Tokyo Magnitude 8.0, Bakemonogatari, Spice and Wolf II and Umimonogatari.

The anime adaptation of dojin visual novel Umineko no Naku Koro ni(When Seagulls Cry) was announced almost a year ago. Finally, it became clear that the anime is to be launched in July 2009 on UHF stations, and a coloured illustration came out for the first time.

Read on for details and pics.
(Japanese)umineko.tv - TV Anime "Umineko no Naku Koro ni" Official Website

(Japanese)Transversal Anime maker Advertiser's Blog: Anime Visual of "Umineko no Naku Koro ni" came out!

The new details disclosed this time is that the airing will start in July, on independent UHF stations including TV Kanagawa. Maybe not all the UHF stations, but at least we can count on it broadcasted in the greater Tokyo, Osaka and Nagoya area.

This is the key-image of the series.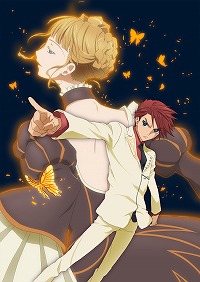 Although some character design sketches were unveiled, this is the first coloured image of the anime to come out.

The cast consists of big names including Daisuke Ono as the protagonist Battler Ushiromiya, Marina Inoue as Jessica Ushiromiya, Yui Horie as Maria Ushiromiya, Kenichi Suzumura as George Ushiromiya, Rie Kugimiya as Shannon and Sayaka Ohara as Beatrice.

Directed by Chiaki Kon and produced by Studio Deen, the crew are mostly from Higurashi no Naku Koro ni series, including series composer Toshifumi Kawase.

Related Posts:
"Umineko no naku koroni" being adapted to TV animation - GIGAZINE

Figurines, tapestries, and T-shirts of "Higurashi no Naku Koro ni" at AOU 2009 - GIGAZINE

Videos of talkative characters with slick movements in Demos of "Higurashi no Naku Koro ni Jong" - GIGAZINE

AOU2009: "Higurashi No Naku Koroni - Jong" - Mahjong game spinout of famous visual novel - GIGAZINE
in Anime, Posted by darkhorse_log