Fast and Stable Connection, WILLCOM's "XGP" shows its best on press briefing.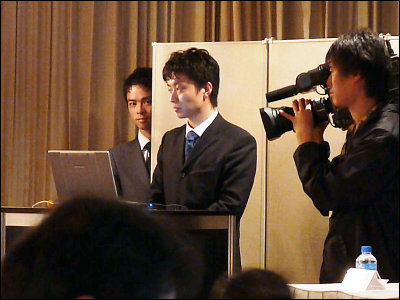 (This article was originally posted in Japanese at 16:14 Apr. 22, 2009.)

The wireless connection device using "XGP", the next generation PHS promises truly fast and stable Internet connection. On the press briefing they had today, WILLCOM demonstrated its unbelievable performance, which provides 20Mbps up and down connection in maximum.

Here's some videos we took at their press briefing. You will be surprised at it.

Read on for detail.
The downloading demo, About 18.5Mbps downloading speed is provided stably


Uploading demo. The speed is about 12 Mbps, which means XGP is faster than any other wireless Internet service, including 10 Mbps UQ WiMAX.


The demo on video streaming from the web camera set in Roppongi. See the precise image transferred in real time. The dropping frames were due to the camera, they said.


The 30MB video clip streaming Seems really well.


HD cam video streaming using XGP on both uploading and downloading. No jumpiness is observed, which is surprising. The thing is now planned to be used in live broadcast by Fuji TV.


Related Post:
The video review of "WILLCOM NS", the latest PDA from WILLCOM and TOSHIBA - GIGAZINE

The Quick Photo Review of the new "WILLCOM NS(WS026T)" - GIGAZINE

Flash News: Willcom to Release "WILLCOM NS", PDA phone with Thin and Wide display - GIGAZINE