Testing video-editing on "Aspire Revo", the low-price desktop on ION platform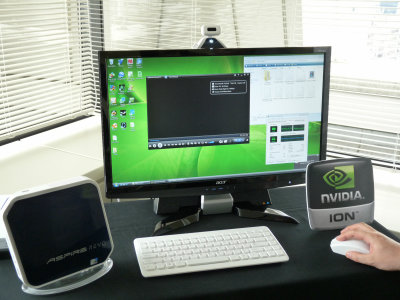 (This article was originally posted in Japanese at 17:06 Apr. 21, 2009.)

Acer and NVIDIA's low-price compact desktop "Aspire Revo" announced today features high graphic performance with its "ION platform", the combination of Atom processor and powerful CUDA chips. With this architecture, the video encoding from HD video to small size video is 10 times faster than former compact PCs.

Let's see how fast it is, with videos we took. Read on for vids!

The demo of attached video proceessing software, probably "vReveal". Pre-processing image is on the left, and processed image is on the right. The source video was taken by small cameras like the one on cell phones but the software well reduces the noise and blur. The high CPU performance enables to pre-view on real time.


Correcting brightness.


See how the software stabilizes the shaky images.


The exact price and release date will be announced later. It's a bit too powerless for those seeking higher performance. But it seems good for your living room.

Related Post:
Video review on Casio's "EX-FS10", the 1000fps super high speed camera - GIGAZINE

The video review of "WILLCOM NS", the latest PDA from WILLCOM and TOSHIBA - GIGAZINE

Video of Super Low-pen-pressure Detection of Wacom's new Intuos4 pen tablet - GIGAZINE

HD video of the real size "Tomodachi Tower" of "20th Century Boy" - GIGAZINE