Flash News: Press briefing of compact high-power desktop "Aspire Revo" by NVIDIA and Acer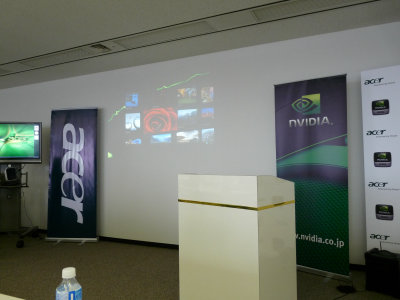 Today, NVIDIA and Acer had a press briefing of their "Aspire Revo", a small-sized desktop computer with "ION platform"

Surprising is its performance per size. It is only 61 cubic inches big but features CUDA, a multi-core processing which enables fast calculation with low energy efficiency.

Here's the detail of their presentation and question-and-answer session.

Is that THE machine?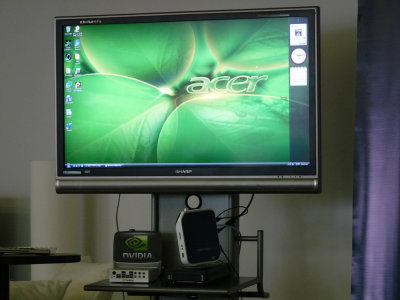 World's first "ION platform" desktop.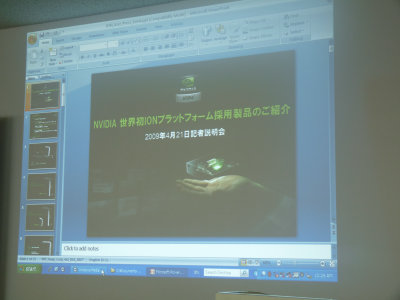 The price will be 30 thousand yen at cheapest model (299 USD)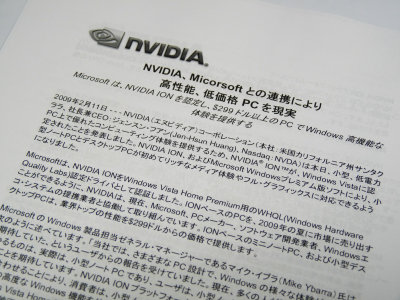 Hardware video acceleration enables to handle 1080p HD-format video and fast video encoding.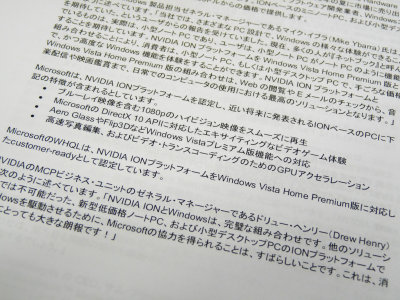 Today's highlight. "Aspire Revo"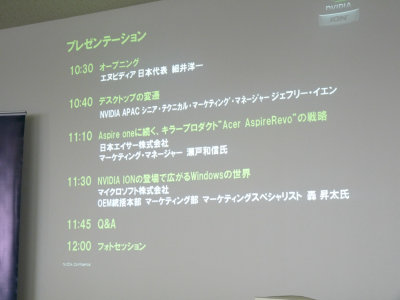 Yoichi Hosoi of NVIDIA Japan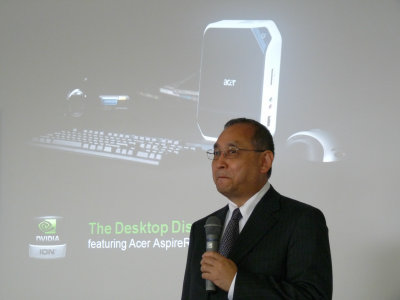 The test bed adopting ION platform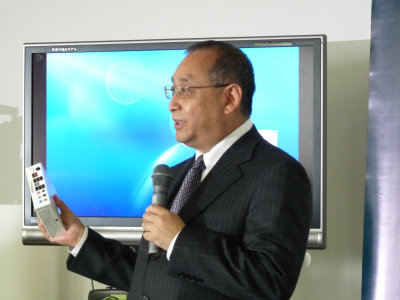 And this is "Aspire Revo", much sophisticated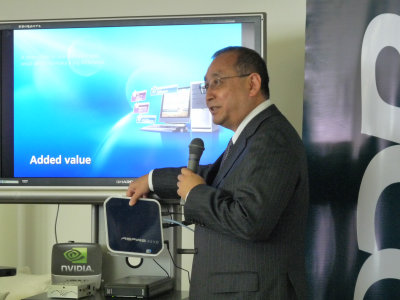 Jeffery Chen, Senior Technical Marketing Manager of APAC NVIDIA, introducing the computer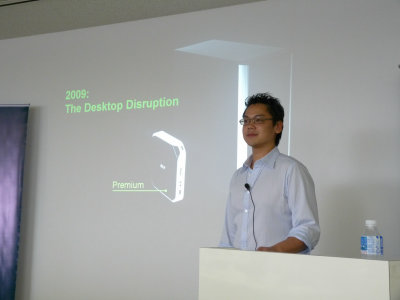 So low power consumption and small size, which is preferred by Japanese consumers.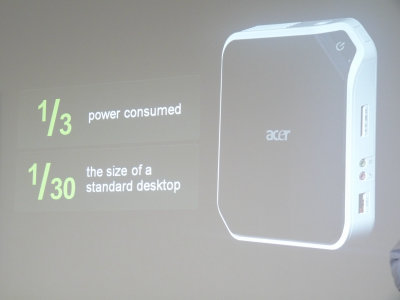 "Spore" smoothly working on Aspire Revo, which was too heavy a game for prior Atom laptos. "Monster Hunter" is also playable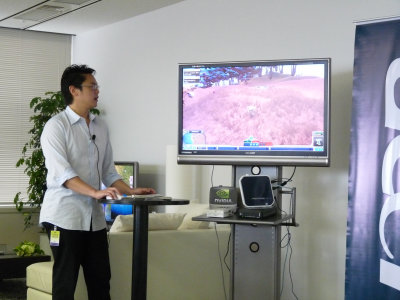 "Aspire Revo" aims to handle HD contents, the growing market.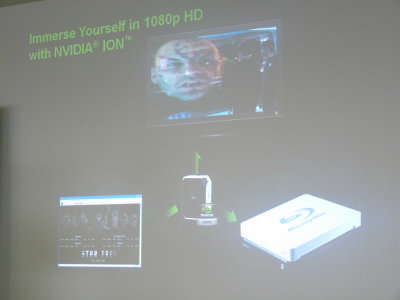 Blu-ray disc demo. No jumpiness occured during the play.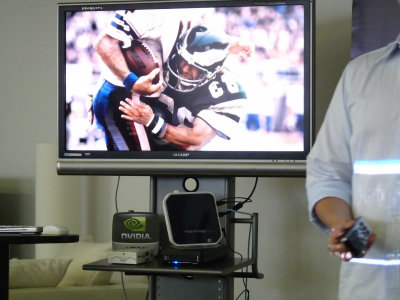 "Aspire Revo" also supports the video editing.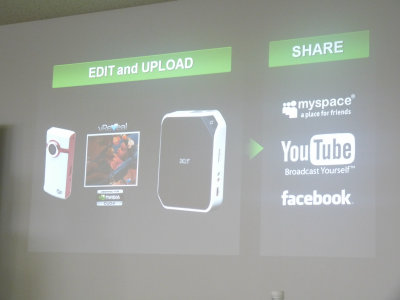 The attached software helps you to correct the blurring images due to hand movement.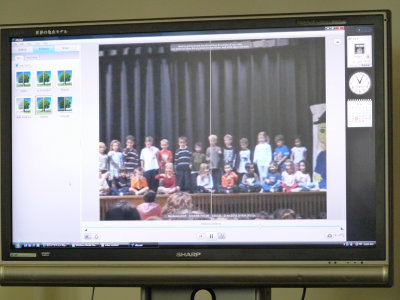 Correcting brightness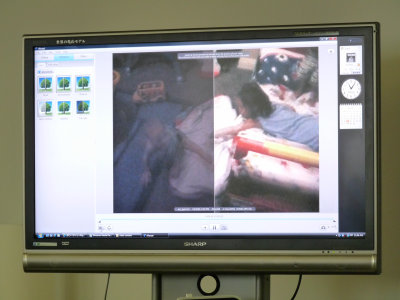 PDAs like iPod and PSP well collaborates with "Aspire Revo"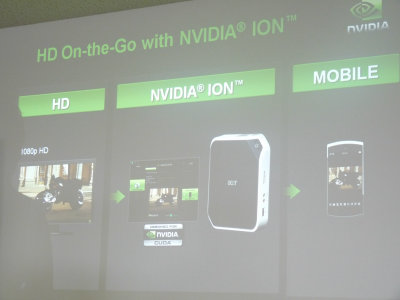 The ION platform encodes the trailer of "Dark Knight" in only 2 minutes, which takes 20 minutes with former Atom Laptops.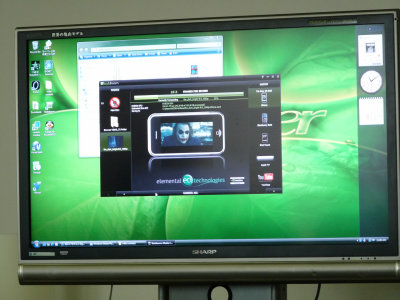 "ION platform" is a multi-CPU platform. It's the combination of single-core Atom CPU and 16-core CUDA processor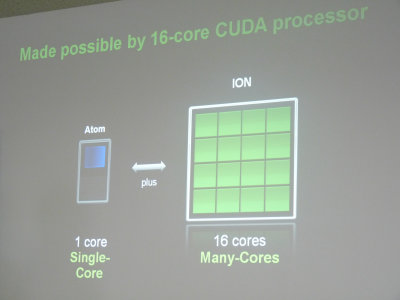 Capabilities of "Aspire Revo"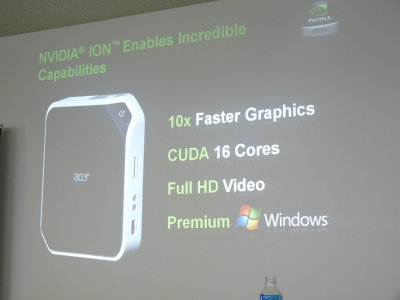 I/Os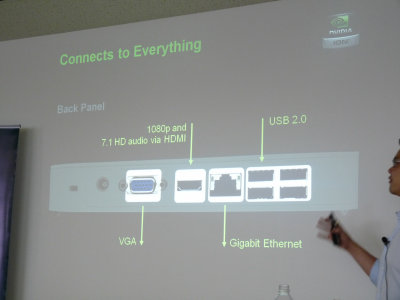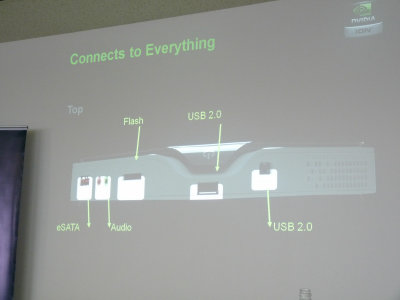 Spec details. Blu-ray drive will be external, for it is bigger than Aspire Revo itself.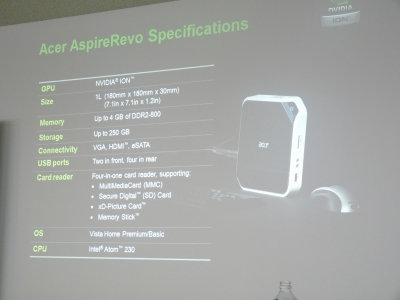 Market Strategy introduction by Marketing Manager Kazunobu Seto of Acer Japan.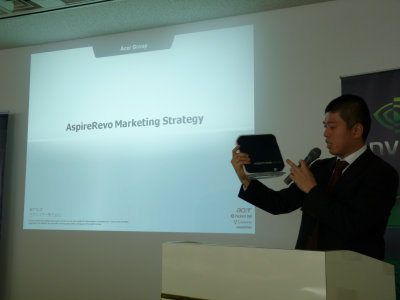 Netbook and mini laptops increased the chance of Internet access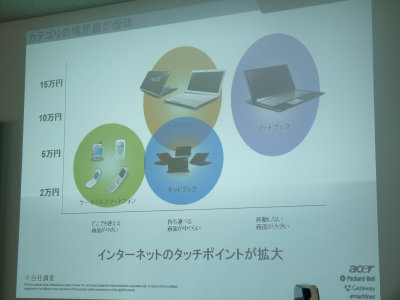 The machine is designed to answer the request of household.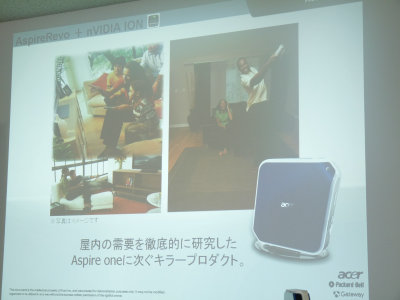 HD video editing is the thing "You want to do" but not "You already started". This is what Aspire Revo aims for.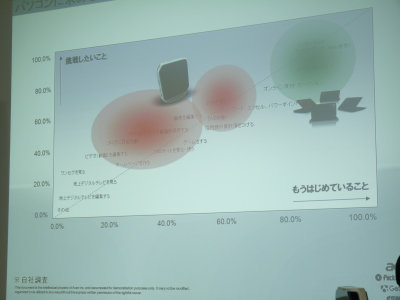 "The machine enables easy-start for customers"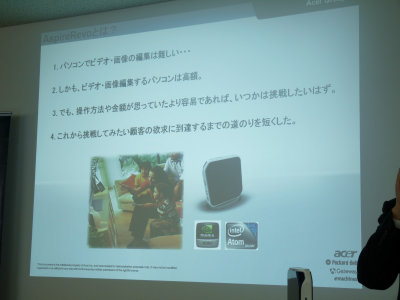 Shota Todoroki, the marketing specialist of Microsoft OEM department introducing graphics capability of Aspire Revo. ION platform marked "5.9" on Graphic of Windows Experience Index.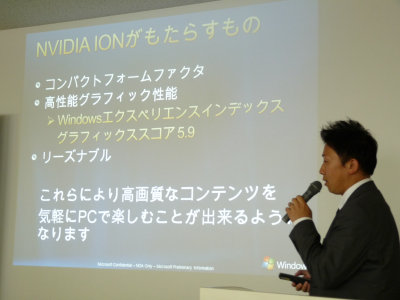 HD video playing demo. Aspire Revo can fully utilize the HD video feature on recent digital camera. Combining it with home routers and online strage services, you can enjoy your contents anywhere you can connect to Internet.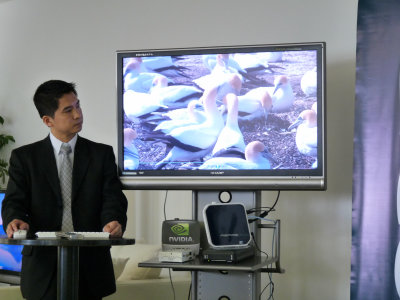 Question-and-answer session

Q:
Is the Geforce9400 on ION platform as same as the one on MacBook?
A:
The chip itself is same.

Q:
Is the word "Platform" means the one like Intel's Centrino platform?
A:
The determination of "Platform" differs from by company.

Q:
Question on 16 core "CUDA processor". In former video chips there were more CPU cores. Why only 16? To reduce the cost?
A:
There are 128 cores and 256 cores GPU. But it's for high-end users. They are not customers ION platform is aiming for.

Q:
Intel's integrated platform will be the competitor to ION platform. Do you have any plan?
A:
Whatsoever will be brought by Intel, we won't change our strategies.

Q:
What is Microsoft's plan to licensing on ION platform computers?
A:
It's now under review.

Q:
Are you going to sell Aspire revo as a platform for casual games? Is NVIDIA going to bundle the third-party application for its CUDA processor?
A:
We are now talking with game industry. CUDA definitely needs third-party software. We have little time before releasing but we are negotiating with them, too.

Q:
Is it operated in Windows Vista?
A:
It is going to be so.

Q:
Will there be "Aspire One" laptop with ION platform?
A:
Now talking

Q:
Who will be the target customers if the ION platform is to be put on laptop?
A:
It's manufacturers' choice. We won't limit other manufactures.

Photo Session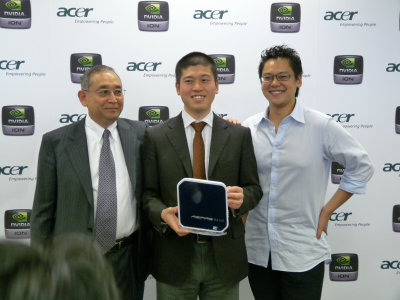 CeBIT2009: "Eee Keyboard PC" the complete PC built into the keyboard. - GIGAZINE

CeBIT2009: MSI's "Wind Top", an under-a-thousand-dollar desktop is really a killer for PC giants! - GIGAZINE

Low price Netbook featuring Gachapin and Mukku from the children's show "Ponkikki" - GIGAZINE