The video review of "WILLCOM NS", the latest PDA from WILLCOM and TOSHIBA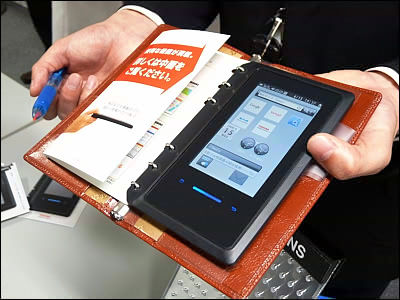 (This article was originally posted in Japanese at 16:22 Apr. 15, 2009.)

Japanese PHS phone carrier Willcom has announced the release of "WILLCOM NS" the new PDA. Here's some videos of the actual device. There's some attracting features like "Auto Pilot" and "Display Memorizing" and so on. Watch out for its smooth move.

Read on for detail.

The video of "Display Memorizing". You may check the web page anytime and anywhere you want. Seems good for storing maps.


"Auto Pilot". It automatically accesses up to 10 web pages in your "Favorite" and fetches datas.


You may use it either vertically or horizontally. In horizontal mode, you can choose both left and right side as top.


Related Post:
Now "E-money ready". Willcom's new phone devices for 2009 spring revealed today. - GIGAZINE

Willcom to reveal their latest PHS phone "BAUM" and "WX340K", and other new customer services. - GIGAZINE

Reviewing Willcom's newest phone device "BAUM" and "WX340" - GIGAZINE

KDDI revealed today new cell phone lineup for 2009 spring sales - GIGAZINE