POKEMON X-Ray to ease the children's anxiety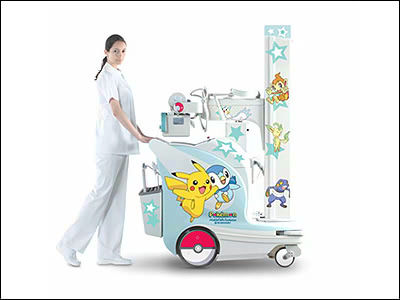 (This article was originally posted in Japanese at 20:53 Apr. 15, 2009)

Shimadzu Corp. announced the release of MobileDaRt Evolution, their new Digital Radiographic Mobile X-Ray System featuring Pokémon Diamond and Pearl. It will be available from April 17th at the price of 72,600,000 yen (about 730,000 dollars). It must be the most expensive Pokemon product aside from the Pokemon-themed Boeing 747 of ANA.

So why do they need Pokemon on X-ray machines? Read on for details.
(Japanese)[SHIMADZU Press Release] Digital Radiographic Mobile X-Ray System featuring Pokemon for children

We all know that radiography don't hurt or even itch, but unlike grown-ups children tend to get intimidated by the mean-looking equipments, sometimes crying and screaming and thrashing about, giving the nurses and technologists a hard time and blurring images by their movement.

With their concept "Bring big smiles to children suffering from diseases and injuries", this friendly looking device will ease their anxiety, making the examination efficient and less time-consuming. A maximum output of 32 kW allows for shorter exposure times, eliminating blurring issues, and verification of images just 3 seconds after exposure ensures a smooth workflow.

Unfortunately, the Pokemon-themed model will be a Japan-only release.

Related Posts:
Papercraft Kitaro planes distributed by Japan Air Self-Defence Force - GIGAZINE