Whole Elementary School Building is being sold on net auction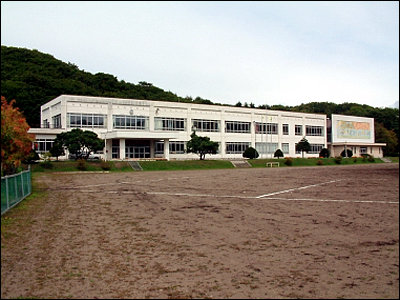 (This article was originally posted in Japanese at 13:43 Apr. 14, 2009.)

We know that you can find anything at Internet auction site. In prior articles, we mentioned a lot of strange things on auction like the ten thousand dollar anime t-shirts and 300 lb. of trading cards. And this time, entire facilities of an elementary school is put on the auction.

Read on for detail.

(JP)Yahoo!Auction - Public Property Auction Press Room

According to the auction site, Niikappu town, Hokkaido has recently done elimination and consolidation of elementary schools. As a result, 7 schools were closed. Three of them were sold as nursing homes and racehorse owner's clubhouse, but still there are four to go. So town officials decided to sell them on auction.

Niikappu is famous for production of racehorses so you can see many farms around here.

See larger map

Not only the buildings and grounds of the school but also the ancillary facilities like teachers' dormitory house were included. The town offers public assistance system on renovation costs and taxes for winning bidders.

This is the school on auction. The cheepes Wakazono Elementary School costs starts at 210 thousand yen.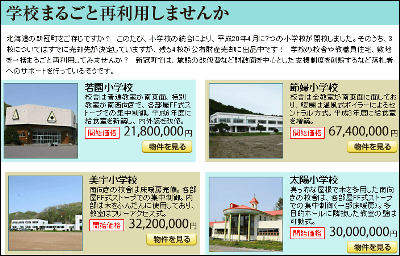 We can't decide whether this is a good news or a bad news. At least it's a effective use of redundant public properties.

Related Post:
Massive "Yu-Gi-Oh!" Trading cards collection for sale, weighs aoubt 317 lbs. - GIGAZINE

One Million Yen Bid for T-Shirt With Visual Novel Illustration - GIGAZINE

Genuine or Forgery? Autographed Illustration of EVANGELION up to bid - GIGAZINE

The Rozen Maiden refrigerator with too much originality. - GIGAZINE
in Note, Posted by darkhorse_log