Never tried Flowing So-men? Try it right now with "Somen-Ya" flowing somen kit!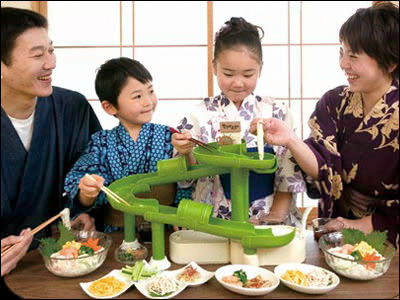 (This article was originally posted in Japanese at 13:08 Apr. 09, 2009.)

Nagashi So-men, a flowing so-men noodle is the most fun delight for Japanese summer party. To catch white, long and thin so-men noodle flowing in the half-cut bamboo pipe with trained chopstick technique makes you forget the heat of steamy summer in Japan. Of course there are few family who own this enjoyable cuisine system, we Japanese are forced to wait for rare occasions to enjoy this thrilling (and delicious) event.

To answer the demand of this niche market, Bandai is releasing "Nagashi Somen Somen-Ya" as one of their "Cook Joy Series" lineups. With this 52cm(about 20") wide, 36cm(about 14") high water-slider, you can enjoy flowing noodle anytime you want, unless you mind your table got wet.

Read on for detail.

(JP)The true FLOWING SO-MEN at home!
"Nagashi So-men Somen-Ya(Flowing So-men So-men Shop)"
Released on Apr. 18, 2009
Also promoting with Mitsukan Co.

So absurd it could be a modern art masterpiece!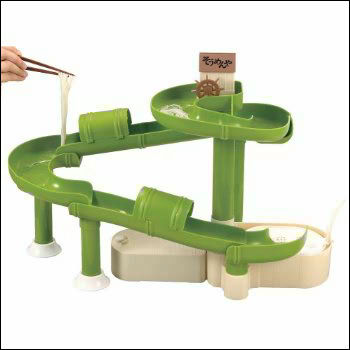 The installation needs five minutes or so. Just fix the pipes and put two D battery into the box, turn on the pump and water starts to flow from the watermill on top.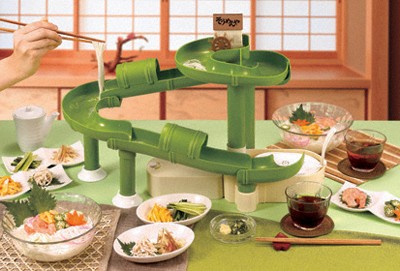 So-men is to be put in front of the water vent.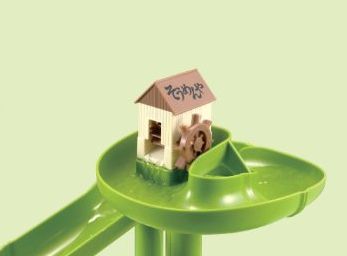 If you missed to catch the so-men, don't worry. The uncatched so-men will be stored here.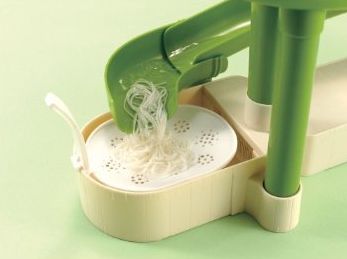 Flip tunnel cover over to make it a relish server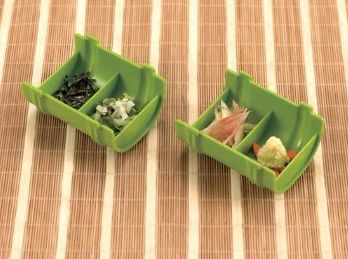 Every part except battery box is washable. It's also storable into this special bag. Very rational, isn't it?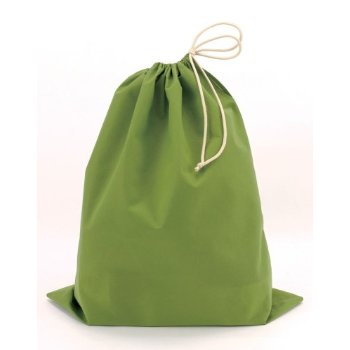 All components were shown here..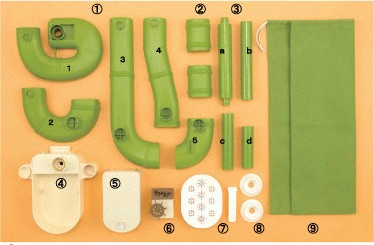 The price is 8400 yen (about 84 USD, tax included) without batteries. How about one for your summer vacation?

Related Post:
"Garlic Ramen WITHOUT Pork" - Rei Ayanami's favourite snack from EVANGELION to be on sale - GIGAZINE

"Spider-Men!!" the Amazing Spider-Man noodles sold only in Universal Studio Japan - GIGAZINE

Eating "Windows Millenium Combo" in OH-SHO chinese restaurant - GIGAZINE

And yet "Macintosh Combo" in OH-SHO Chinese restaurant - GIGAZINE

Eating tons of Kushikatsu, the spitted cutlet - GIGAZINE

in Note, Posted by darkhorse_log