FULL METAL PANIC! going live-action starring Zac Efron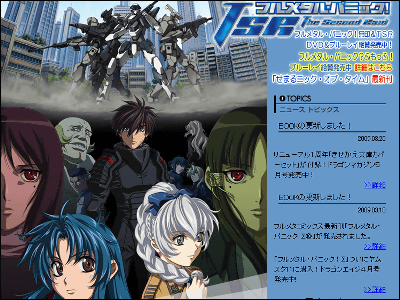 (This article was originally posted in Japanese at 12:15 Apr. 08, 2009)

Full Metal Panic!, the long-running light novel series by Shoji Gato has been adapted to five different mangas and three anime series, gaining huge popularity. Notably, the first anime series aired in 2002 was produced by GONZO of Strike Witches and Saki, and the second and third (Full Metal Panic? Fumoffu aired in 2003 and Full Metal Panic! The Second Raid in 2005) by Kyoto Animation of Haruhi Suzumiya series.

And now, a Hollywood live-action adaptation was announced by Mandalay Pictures, and actor Zac Efron is reportedly discussing the project.

Read on for details.
Mandalay nabs rights to 'Full Metal Panic'

"Full Metal Panic!" is a blend of robot-action and high school rom-com, following Sousuke Sagara, a member of the covert anti-terrorist mercenary group Mithril, tasked with protecting Kaname Chidori, a spirited high school girl. The novels are split between stories focusing on Sousuke's mission as a soldier of Mithril and comedic side stories centered on his life at Jindai High School.

It is not made clear which part of the series will be adapted, novel, manga, or anime. Guessing the movie will focus on actions and mecha fights, they might cut out the whole high school part, but the high school rom-com part might add a nice superhero-has-also-an-ordinary-human-being-side touch, which seems to be favoured these days (e.g. Spiderman, Hancock).

Is it going to be another Dragonball Evolution? We do expect a whole lot of things to be changed, charcters' names and settings and all, in fact it might turn out surprisingly well if they sod the vain attempt to be faithful to the original's fans and just use the outline. In any case, with the popularity of the "FMP!" franchise and Zac Efron's heartthrob status from his High School Musical and Hairspray success, looks like the movie is already getting high amount of attentions in Japan. We should keep an eye on this one.

As far as we can tell, this would be the first Hollywood adaption of light novels (though they might have got the idea via anime series). May be it will set a trend, and hopefully, some big screen versions of popular light novels like Slayers, Legend of the Galactic Heroes or Read or Die to come?

Related Posts:
Cute, but definitely NOT Asian -High resolution pics of "DRAGONBALL EVOLUTION" came out - GIGAZINE

Obviously, Piccolo should be green -High Quality Costume of Piccolo from DRAGON BALL Z - GIGAZINE

Awakening from 43 years' sleep, "Daimajin" becomes TV drama from autumn 2009 - GIGAZINE

Tokyo Motorcycle Show 2009: Super Machines from KAMEN RIDER series, CUTIE HONEY, WILD HOGS and more! - GIGAZINE