"Road Hopper", the factory-made chopper to have electric fuel injection system.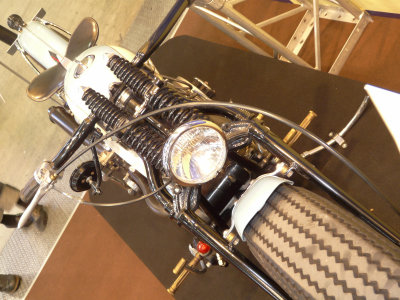 (This article was originally posted in Japanese at 14:13 Mar. 29, 2009.)

"Chopper" is a modded motorcycle, whose archetypal examples were seen in the 1969 movie "Easy Rider". Plot Corporation's "Road Hopper" is a factory-made chopper, which is made of chopped-shape frame and small size fuel tank. It has an old-fashioned appearance but it has a modern mechanism, which offeres you an "easy riding."

Due to the tightened emission control, new production has been suspended but in Tokyo Motorcycle Show 2009, they exhibited Road Hopper with electric fuel injection system embedded.

Read on for detail.
(JP)Road Hopper

Though there are thousands of exception, many of the choppers are made from Harley-Davidson motorcycles. But you need to pay considerable modification cost in addition to the vehicle cost. You also need tons of application to pass legal checks. So if you want to own a chopper, you should make your mind up strongly.

Road Hopper is sold as a brand-new bike which carries "Evolution Engine" supplied by Harley-Davidson. Its price, 2.68 million yen (about 27 thousand USD) seems rather expensive. But you should take it in account that you need mod cost and application fee in addition to 20 thousand dollar brand-new Harley-Davidson.

Booth of Plot Corporation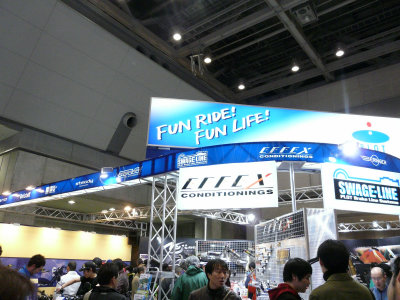 Test vehicle of electric fuel injection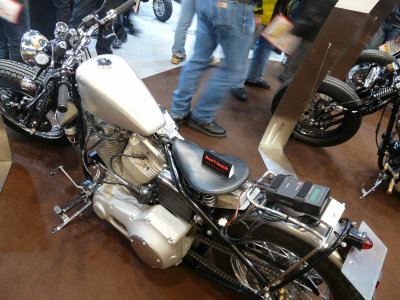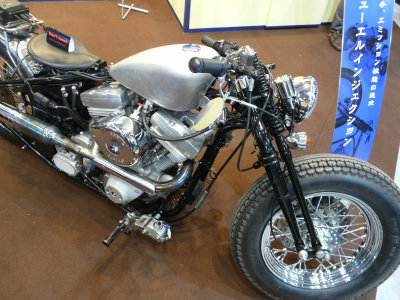 "Evolution Engine". Born in 1984, it saved Harley-Davidson from its financial crisis.


Springer fork. Having retro look, it's an archetypal modification for choppers though modern telescopic forks are far better in capability.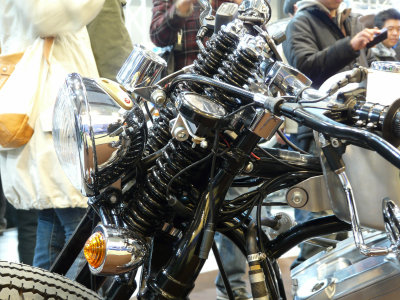 Modern disk brakes are installed instead of traditional drum brakes.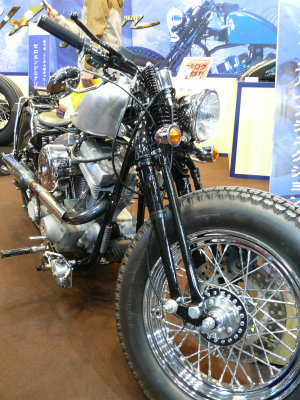 Old-fashioned but newly built rigid frame. Normally you have to chop and re-weld it to get one, which is pricey.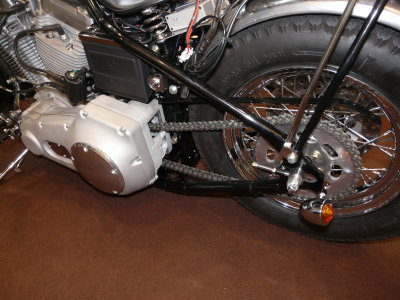 A customized Harley-Davidson done by zero Engineering. Road Hopper took the design from this deeply modded chopper.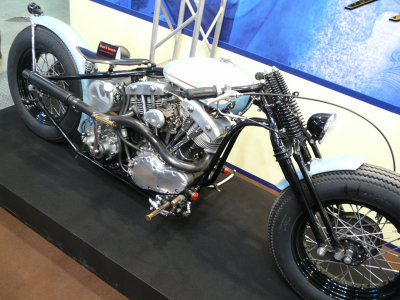 A product description.


Air-Fuel ratio meter for test run.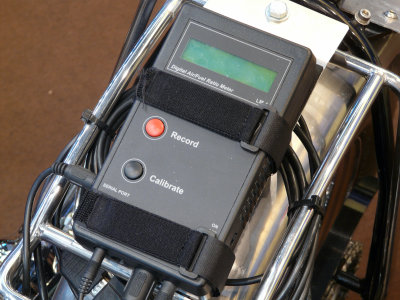 The indicator is mounted on the handle to show the ratio.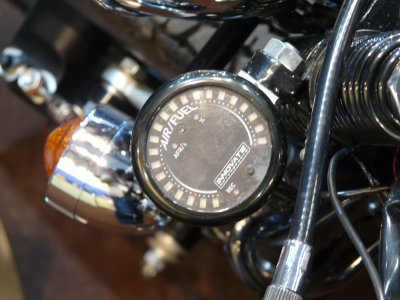 Engine Control Unit. One of the main issues which they are now working on is fuel control maps to determine the amount of fuels injected into the engine.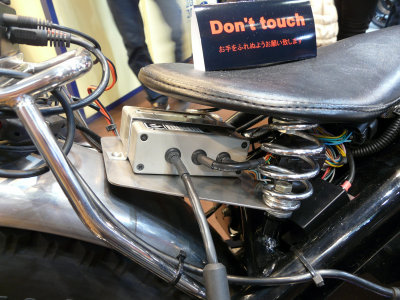 Though there's a genuine Harley-Davidson EFI system for Evolution engine, like the one on The 30th Anniversary model or smaller Sportstar engines, Plot decided to develop the system uniquely. For Big Twin Evolution Engine is not prepared for EFI, they started from as elementary a problem as how to measure the timing of the injection. In addition, the system also has to allow more dress-ups by users.

"TEST" sign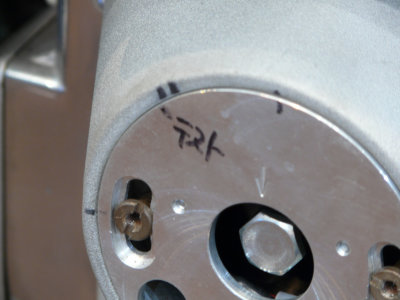 The exhaust will be equipped with catalytic converter, to gain more margin to the system.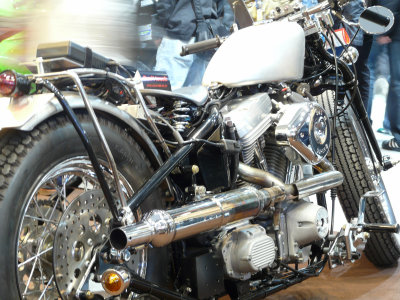 Handle layout.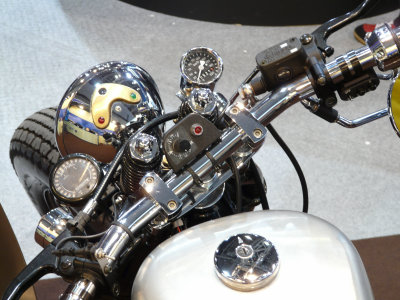 Volume knob for Air-Fuel rate adjustment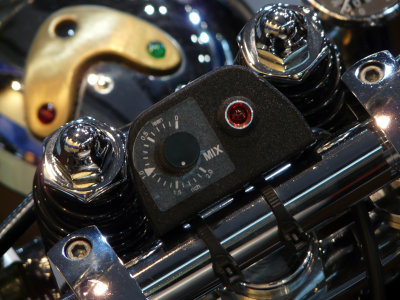 Fuel tube diagram. The tube starts from under the tank.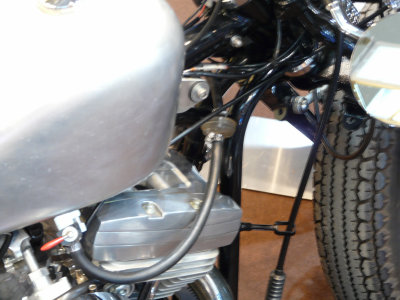 And connected to the Injection Pomp on the left of the frame.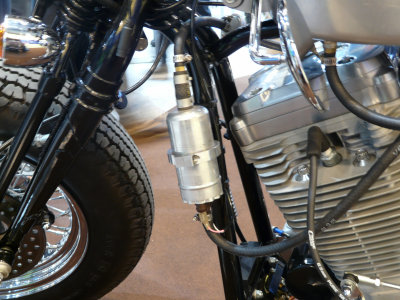 The fuel will be injected from the opposite side of the normal ones. Manifold assemblies and harnesses will be worked out too.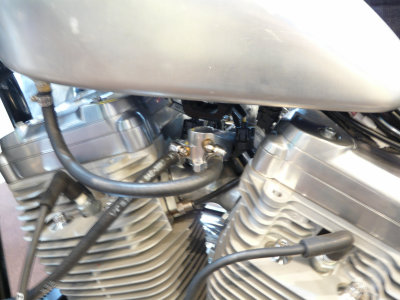 The test on the dynamometers is ongoing and the product will be released on autumn of 2009.

Related Post:
Kawasaki Industries to develop turbo-charged motorcycle for the green race - GIGAZINE