Details announced of Animax's All-Japan Anison Grand Prix 2009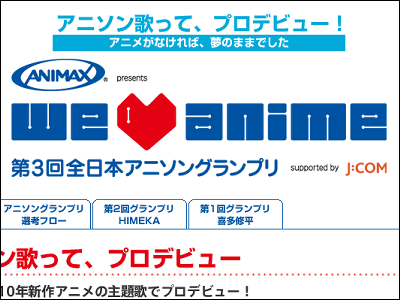 (This article was originally posted in Japanese at 14:16 Apr. 01, 2009)

On April 1st Animax and J:COM started accepting entries for the annual All-Japan Anison Grand Prix, the anime song competition in which the winner gets to sing the theme song for a new anime series as their debut and earn a proffesional contract with Sony Music Entertainment Japan.

The competition started in 2007 and it seems to be a success so far, with Shuhei Kita, winner of the first competition performing two anime songs already, "Breaking Through" for Persona: Trinity Soul and "Issei no Sei" for Natsume Yujin Cho, and the latest winner Catherine St. Onge (HIMEKA) singing "Asu e no Kizuna", the opening theme to the anime series Valkyria Chronicles airing from this April.

Read on for details.
(Japanese)ANIMAX: we love anime

The application requirements of the competition is that you have to love singing, can sing in public and be not in a contract with agancies or any other show-biz related company at the time of application and during the auditions. The period for acceptance is from April 1st until May 31st, and contestants can apply by either by post or via karaoke distributor JOY SOUND's Uta suki Douga(Jp) or form mail from the official website.

Those who passed the applicant screening will enter the preliminaries held in six cities, and the winner of each preminary plus some chosen by Internet polling will perform at a final round held in late September at Tokyo. The preliminaries will be held on June 27 at Fukuoka, July 4 at Nagoya, July 5 at Osaka, July 11 at Okinawa, July 18 at Sapporo and July 20 at Tokyo.

If you love anime, love singing and aspire to be an inimitable singer like Aniki some day, this could be a great opportunity.

Related Posts:
NHK's "Anime Nodojiman" accepts application for "National Anime Karaoke Battle Royale" - GIGAZINE

TAF 2009: Teenage voice actress Rina Hidaka and singer Azumi Inoue promoting "Before Green Gables" - GIGAZINE

TAF 2009: New Project of MINKY MOMO kicking off for the 30th Anniversary, and a gigantic DANCOUGA - GIGAZINE

Seventeen till we die!! Seventeenage calculator tells how old you are in seventeenage - GIGAZINE

The Annual Anison Day is Coming! -NHK Radio's "Today, All Day Long, Anison" - GIGAZINE