CeBIT 2009: Eco-Friendly Bamboo Notebook by ASUS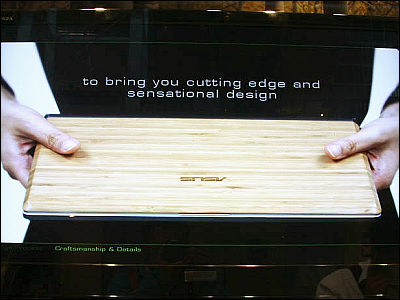 (This article was originally posted in Japanese at 10:13 Mar. 11, 2009)

At a corner of the ASUS booth in CeBIT 2009 was a showcase themed on bamboo forest, creating a somewhat calming effect at the busy computer expo. Under a sign board saying "Inspired by Nature", there on the display were "Bamboo Series" notebooks cased in bamboo paneling released last August. Not just stylish and green, the immense tensile strength of bamboo allowed it to be the first notebook to have survived the unforgiving conditions of snow-capped Qomolangma Peak.

Take a look at our photo review.
12.1" model "Bamboo 12" bringing out the beauty of natural bamboo colour. Features Intel Core 2 Duo T9400, P8600 or P8400 for CPU, 320GB 5400RPM SATA hard drive.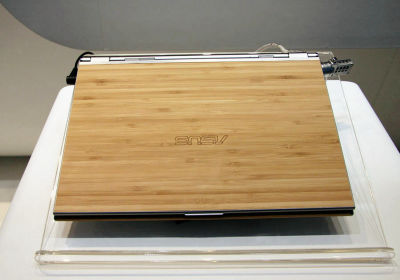 Two USB port, HDMI and eSATA port on the left side.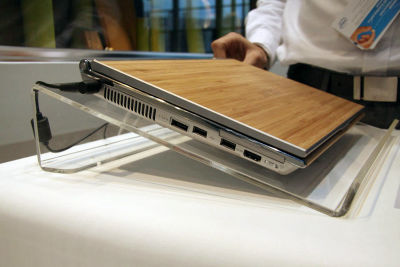 Super Multi Drive on the right side. Looks competent enough for business use, and might be great advantage when it comes to meeting new clients and business connections where first impression counts.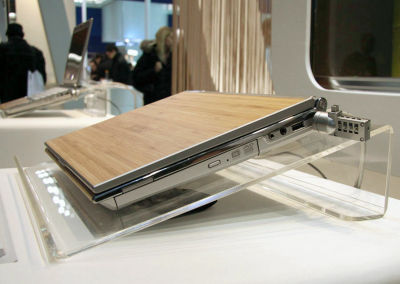 Ivory coloured keyboard well matches the bamboo texture.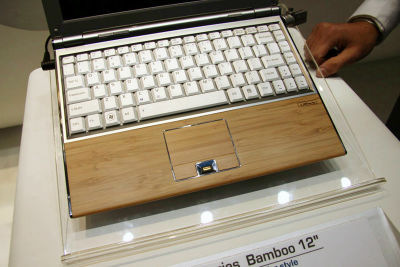 According to the booths attendant this model is retailed in Germany around 1650 EUR (about 2,000 USD), which might sound pricey compared to other notebooks but in fact it must be priced quite moderately considering the cost it took them to make the product truly green throughout every phase of its life – from its conception, production and use to its eventual recycling and disposal.

The series uses energy-efficient Super Hybrid Engine technology, that can extend battery life by 35-70%, and users can choose what level of performance they need at the time, saving battery power or boosting performance by as much as 23%. This technology can reduce yearly CO2 emissions by 12.3kg each notebook.

The unit also features an environmentally friendly 12.1-inch WXGA LED-backlit LCD and the plastics chosen to manufacture the unit come from recyclable raw materials and are numbered to facilitate recycling when the product reaches the end of its life cycle.

The trailer shown at the booth was interesting, too.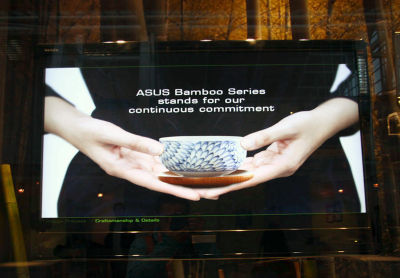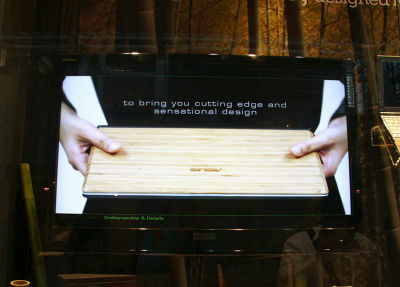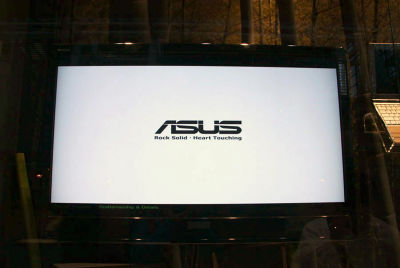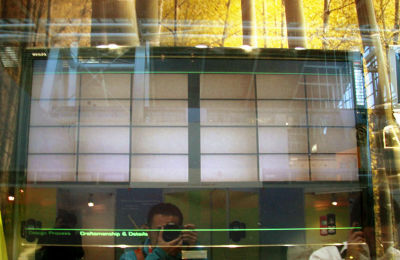 We got a somewhat Japanesque impression from the video, though ASUS is of course a Taiwanese company and they must have beautiful bamboo forest and tea bowls with wooden saucers and shoji paper screens in Taiwan as well. It felt good to see something Asian shown this beautifully here in Germany.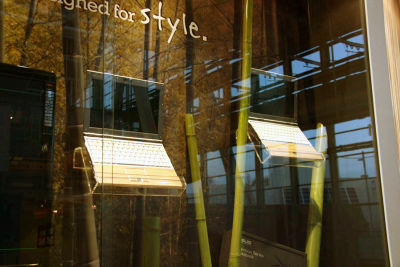 (Coverage, Text: Hiroyuki Watanabe / Edit: GIGAZINE)

Related Posts:
CeBIT2009: ASUS's "Dual Panel Concept" is a real "port-able" touch panel laptop - GIGAZINE

CeBIT2009: Revealing the secret of "U115 Hybrid"s 12 hours long running battery life. - GIGAZINE

Solar Power Bags by Sunload exhibited at CeBIT 2009 - GIGAZINE

Cebit 2009: Police officers swishing about on Segways - GIGAZINE