CeBIT2009: "Eee Keyboard PC" the complete PC built into the keyboard.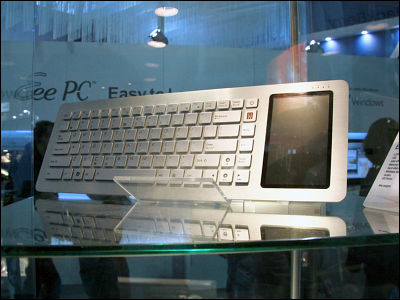 (This article was originally posted in Japanese at 15:53 Mar. 10, 2009.)

As our topics on our CeBIT report shows, Taiwanese manufacturers are agressively exhibiting their new product on this CeBIT 2009. Among them, ASUS is showing outclassing keenness, like a charging bull. "Eee Keyboard PC" is the very product they brought for our astonishment.

Detail photos and descriptions follows.

This time ASUS had a larger booth than "electronics giant" Panasonic, which had a booth on same hall. At the booth they exhibited so many new coming products and the Lamborghini car, which ASUS collaborates with.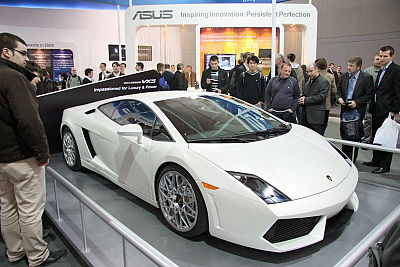 In the middle of their bright new products, bright in semantic and actuality, "Eee Keyboard PC" was found. As the name shows, it's not a keyboard assembly. It is the complete PC used for "wireless media center for multimedia enjoyment", from their description.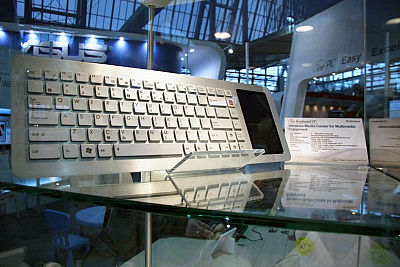 Look at this thick steel material used on the front panel. The back panel seems to be made of some kind of plastic, for its glossy surface. Surprisingly in this small size, they had 1GB RAM, 16-32GB SDD, VGA, HDMI and LAN ports, headphone and microphone connector. Intel Atom N270 is selected as the CPU and it's also available with Bluetooth V2.0. According to the booth person, the product is designed as a media center to store HD movie and transmit to larger display via its wireless interface.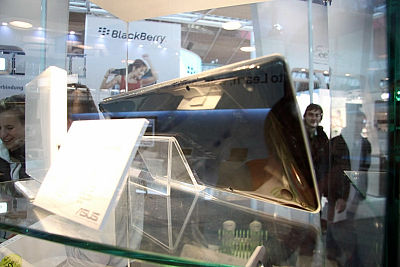 The monitor on the right is a touch panel. Unfortunately we weren't able to see the actual operation, but it will work like this image.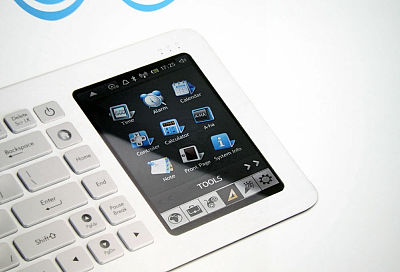 This surprised feeling is nearly as same as I felt when I saw pirated NES built into keyboard. I first thought this Eee keyboard PC as a "concept model" but ASUS said that it will be released in later 2009.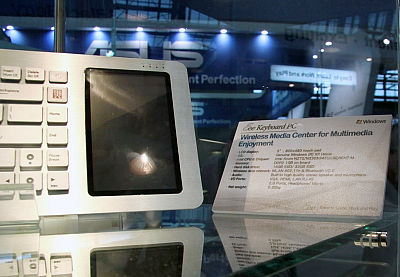 (Coverage, Text: Hiroyuki Watanabe / Edit: GIGAZINE)

Related Post:
CeBIT2009: ASUS's "Dual Panel Concept" is a real "port-able" touch panel laptop - GIGAZINE