CeBIT2009: MSI's "X-Slim" laptop is as thin as 0.2 inchs at its thinnest point.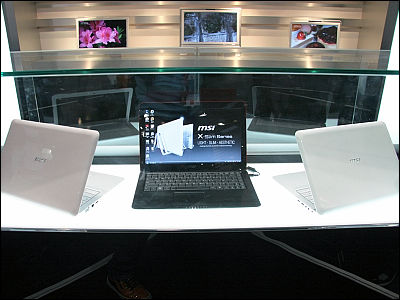 (This article was originally posted in Japanese at 01:23 Feb. 07, 2009.)

MicroStar International had revealed their super-slim laptop at this CeBIT 2009. The photo above is "X340" and "X320" which they were displaying at the booth.

The biggest difference between these two is the CPU. X340 fulfills the "Intel Centrino Inside" specification, with Penryn SFF ULV 1.4GHz CPU and Intel chipsets. Compared to this, X320 is a "mobile" model which comes with energy-efficient Intel Atom Z530 CPU.

X340 also has HDMI port so it can send high quality images to the outer display. It has 13' 16:9 wide screen and internal HDD can be choiced from 250GB, 320GB, and 5000GB.

Read on for pictures, release date, and prices.

The section was eye-catching with luxurious decoration, which reflects MSI's seriousness on this product. X-Slim series were in center of the booth, displayed in glass case. There are 3 colors availabe. Black, champagne gold, and white.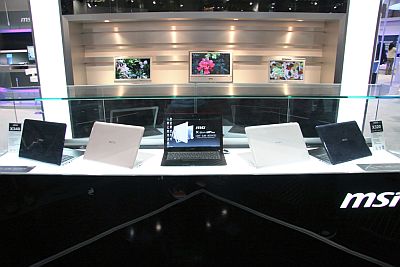 The "X" display using 2 white X320s. 1.98cm(about 0.8 in.) at its thickest and, wow, 6mm(about 0.2 in.) at thinnest! Weighs under 1.3kg including battery.


X340 displayed at the booth. The official catalog says the model is "X340 PRO" but somewhat they deleted "PRO" on this display card. Using the parts with higher performance than X320's, it has enough specs as a netbook.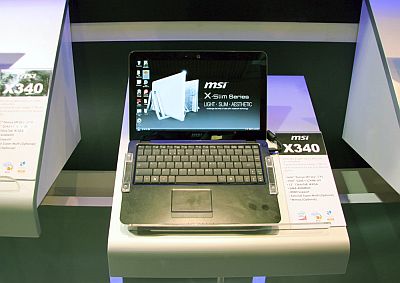 On the left side of X340, there's HDMI port in addition to D-sub port. For X320, it has USB port instead of HDMI.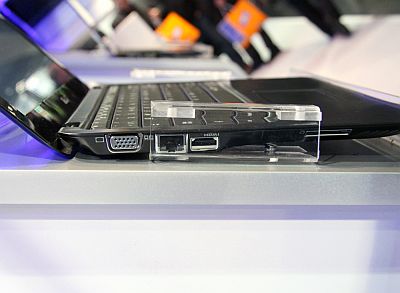 The release will be in late April 2009, by middle of May at its latest. The price will be 799 to 999 USD, which seems reasonable.

(Coverage, Text: Hiroyuki Watanabe / Edit: GIGAZINE)

Related Post:
CeBIT2009: Revealing the secret of "U115 Hybrid"s 12 hours long running battery life. - GIGAZINE

CeBIT2009: ASUS's "Dual Panel Concept" is a real "port-able" touch panel laptop - GIGAZINE

EeePC threatens Japanese PC manufacturers' market share. - GIGAZINE

Low price Netbook featuring Gachapin and Mukku from the children's show "Ponkikki" - GIGAZINE