Obviously, Piccolo should be green -High Quality Costume of Piccolo from DRAGON BALL Z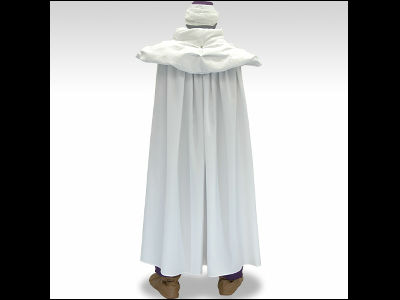 Day by day Dragonball fans are getting excited - or anxious - here in Japan, with only ten more days to go until the much talked-about movie Dragonball Evolution comes out, and the launching of Dragon Ball Kai on April 5th(Sun. 9am) also drawing near.

And some might be wondering what to wear for special occasions such as the movie's premiere, or "CoFesta Presents: The World of DRAGONBALL Strikes Back!", the special event of Dragon Ball Kai held on March 20th at Tokyo International Anime Fair.

In that case, we've found you a perfect outfit; high quality costume of Piccolo released by the always resourceful cosplay-store COSPA. You can tell the quality even from the back shot, perfectly capturing the drapes of his lush long cape.

Read on for details and pics.
(Japanese)COSPA Character Goods and Apparel::Dragon Ball -Dragon Ball Z - Piccolo Costume Set

Front.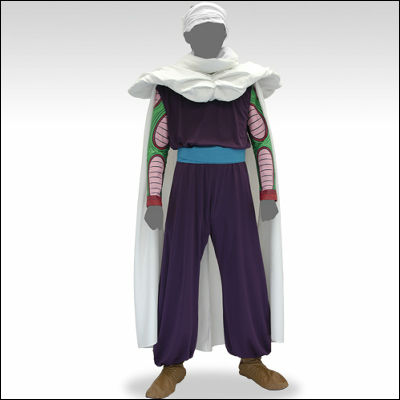 Back.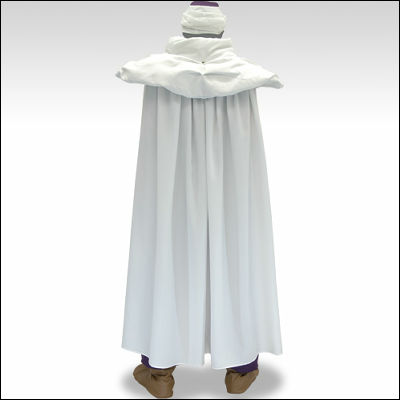 You'd better paint your face (and preferably hands) green to match the bodysuit's skin colour.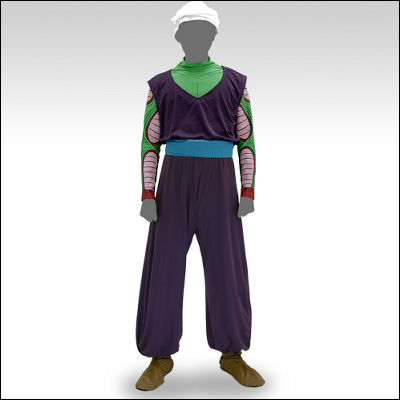 In case you've got sensitive skin, the costume comes with a cut-out cardboard mask.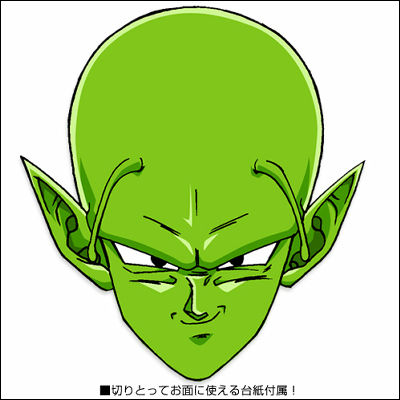 Priced at 9,800 yen (about 100 USD), the costume kit includes cape, a turban-like cap, green body suit, purple vest and pants, blue obi(sash), and a pair of brown boots-covers to put on your shoes. The costume is suitable for people from 162cm(5'4") to 180cm(5'11") tall. Idealistically, Piccolo should be tall (generally assumed to be around 6'7" by fans) but the costume is made to fit most part of Japanese population.

You must also note that this costume kit is based on the appearance of Piccolo in "Dragon BAll Z" with blue obi, quite different from the live-action version. In fact, Piccolo in "Dragon Ball Z" and Piccolo Daimao (whom the movie's character Lord Piccolo is based on) are two totally different characters. So the cosplay might be more suitable for anime-related events.

As for Lord Piccolo of the movie, we're not even sure about his skin colour yet, so cosplaying for the premiere might be a tough job.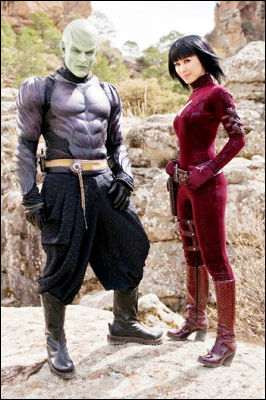 Related Post:
"DRAGONBALL EVOLUTION" opens first in Korea, not Japan - GIGAZINE

Cute, but definitely NOT Asian -High resolution pics of "DRAGONBALL EVOLUTION" came out - GIGAZINE

Why does no original voice actors take a role in the movie "DRAGONBALL EVOLUTION"? - GIGAZINE

Who is ultimately the strongest anime/manga character in the universe? - GIGAZINE

Not just a rerun! 20th Anniversary broadcasting of "Dragonball Z" starts this April - GIGAZINE

The inimitable Kickboxer-cum-Cosplayer-cum-Otaku Nagashima "Jien-ots" Yuichiro - GIGAZINE