New "Mazinger Z" directed by Yasuhiro Imagawa coming on TV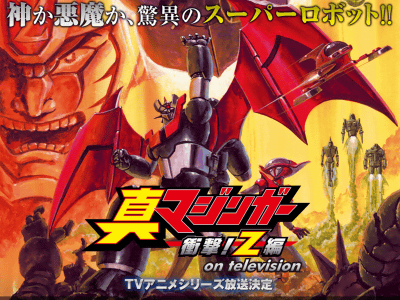 (This article was originally posted in Japanese at 00:00 Feb. 26, 2009.)

Featuring Imagawa Yasuhiro as director, the new episodes "Shin Mazinger Shougeki! Z hen(True Mazinger Impact! Episode Z)" will be on air in 2009 spring.

"Mazinger Z" is a TV anime based on Go Nagai's comic aired from 1972 to 1974. Being one of the first animation classified as "gigantic robot anime", it has been influencing many animations from on, like "Gundam", "Macross", "Evangelion"and so on. Even now there are new spinouts like "Super Robot Wars" series, "Mazinkaiser" and a lot others.

Read on for detail.

(Japanese)Shin Mazinger Shougeki! Z hen
http://www.shin-mazinger.com/

According to the description on the official site, the new anime will basically trace original "Mazinger Z" stories and characters but will be re-drawn in modern touch with latest Anime techniques and totally new casts.

Director Yasuhiro Imagawa has been long involved in many popular robot anime and is known for a brassy rendition of "Mobile Fighter G Gundam". It seems that Imagawa's style of interpretation will be a good match with original author Nagai's dynamic drawing.

Cast of Voice
Koji Kabuto: Kenji Akabane
Shiro Kabuto: Ayumi Fujimura
Juzo Kabuto; Yasuaki Suzuki
Sayaka Yumi: Yoko Honda
Yanosuke Yumi: Hiroshi Naka
Detective Ankokuji: Atushi Imaruoka
Tsubasa Nishikori: Miyuki Ichijyo
Cross: Tessho Genda
Yasu: Masayuki Kato
Kikunosuke: Seiko Tomoe
Dr. Hell: Kazuhiko Kishino
Baron Ashura: (male) Koji Ishitobi/(female) Kaori Yamagata
Count Brocken: Minoru Inaba
Narration: Tessho Genda

Staffs
Original comic: Go Nagai(Dynamic Production)
Director and Scenario: Yasuhiro Imagawa
Character design: Shinji Takeuchi
Design of Mazinger & Machine Beasts: Tsuyoshi Nonaka(BANDAI)
Musics: Akira Miyagawa
Production: BEEMEDIA, Code

Related Post:
Bishojo Mahjong Anime "Saki" to be aired from April 2009 - GIGAZINE

Anime adaption of "Guin Saga" to be aired from April, 2009 on NHK BS-2 - GIGAZINE

RPG "Tales of Vesperia" to be adapted to anime movie - GIGAZINE

"Melancholy of Haruhi Suzumiya" to start airing "afresh" from this April - GIGAZINE

Stills from new TV anime "BASQUASH!" starting this April - GIGAZINE
in Anime, Posted by darkhorse_log