"DRAGONBALL EVOLUTION" opens first in Korea, not Japan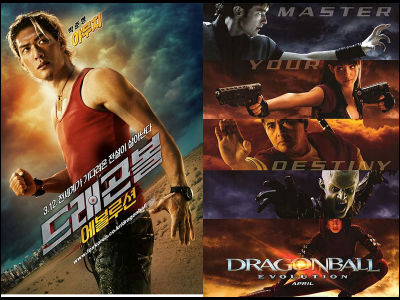 (This article was originally posted in Japanese at 16:07 Feb. 19, 2009)

As we've reported before, the movie DRAGONBALL EVOLUTION was to be released in Japan on March 13th, prior to the rest of the world. The release dates in other countries were said to be April 1st in France, April 3rd in UK, April 4th in US and Spain, so here in Japan they were proudly emphasising that you can be one of the first to watch the movie in the world.

But with less than a month to go, there seems to be a change in plan. Rumour has it that the release in South Korea is to be the first in the world. What's up with this?

Read on for details.
(Japanese)The Chosun Ilbo - Entertainment Korea: Press Conference of the Cast of Dragonball Evolution

South Korean newspaper The Chosun Ilbo reported about the press conference of the main cast of DRAGONBALL EVOLUTION held on February 18th at Seoul. In the article, it was mentioned that the movie is to be released on March 12th in Korea.
『DRAGONBALL EVOLUTION』は鳥山明原作の漫画『ドラゴンボール』の初の実写映画化作品で、韓国では3月12日から公開される。
Calm down, this could be a clerical error, we told ourselves in vain, but there was another article about the press conference in Innolife.net(Jp) saying "Opening in Korea on March 12th, the first in the world".
3月12日全世界で最初に韓国で公開される。
As we checked the official Japanese website of the movie for confirmation, where it used to say "全世界最速公開 (Zen sekai saisoku kokai; Released prior to the rest of the world)", the banner was changed to"ROADSHOW".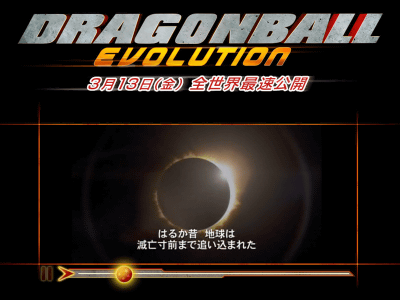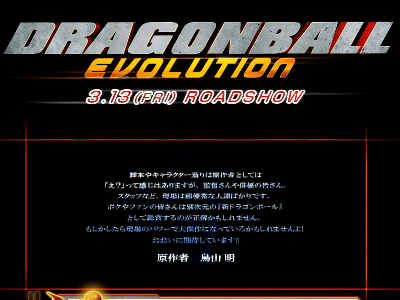 There seems to be some confusions since TimeWarp(Jp), another website reporting the same press conference, says "The movie is to be released in Korea on March 13 (Fri), the same date as Japan", and moreover, IMDb says the release date is March 13th in Japan, Singapore, South Korea and Taiwan.

To get concrete informations we inquired 20th Century Fox Japan by phone and they confirmed us that yes, the movie is going to be released on March 12th in South Korea, it was rescheduled since movies open on Thursdays as a general rule in Korea, and the release date in Japan wouldn't be changed, March 13th, as planned.

Related Posts:
Cute, but definitely NOT Asian -High resolution pics of "DRAGONBALL EVOLUTION" came out - GIGAZINE

Obviously, Piccolo should be green -High Quality Costume of Piccolo from DRAGON BALL Z - GIGAZINE

Why does no original voice actors take a role in the movie "DRAGONBALL EVOLUTION"? - GIGAZINE
in Movie, Posted by darkhorse_log