"Garlic Ramen WITHOUT Pork" - Rei Ayanami's favourite snack from EVANGELION to be on sale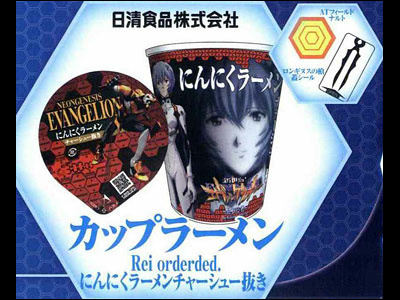 (This article was originally posted in Japanese at 14:13 Feb. 13, 2009)

Those devoted to Neon Genesis Evangelion must recall the famous scene when Rei Ayanami, who hates meat, orders "Ninniku Ramen Char siu Nuki (garlic ramen with no roasted pork)" at a ramen stand.

Fans were impressed as well as Shinji and it became kind of a craze, people attempting the unusual not-on-the-menu order at ramen stands and diners throughout Japan.

Now a instant noodles version of the speciality is to be released.

Read on for details.
(Japanese)Amiami Head Shop::Neon Genesis Evangelion Cup Ramen (Ninnniku Ramen Char siu Nuki)

According to this website, "Garlic Ramen WITHOUT Pork" is to be released as instant noodles by Nissin Foods in late March 2009, at the price of 5250 yen (about 57 dollars, including tax) for 20 meal. It is now available for pre-order.

The package design features Rei Ayanami and Evangelion Unit 00, with Lance of Longinus sticker to hold the lid and hexagonal shaped AT Field narutos (those tiny fish-paste cakes often topping Japanese noodles). Note that the noodles aren't entirely animal-free for Rei wasn't a strict vegetarian, she just genuinely hated meat.

Hopefully Asuka's favourite Shark Fin Ramen (with roast pork, super size) will come out as instant noodles as well someday, though it might be pricey.

Related Posts:
"Spider-Men!!" the Amazing Spider-Man noodles sold only in Universal Studio Japan - GIGAZINE

Official English title of the movie "Evangelion Shin Gekijoban: Ha" decided - GIGAZINE

"MAGI System" the Supercomputer of EVANGELION Actually Exists! - GIGAZINE

Hideaki Anno's all-night movie show to be held on Valentine's day. - GIGAZINE

Neon Genesis ASOGELION the Movie!! - GIGAZINE