Low price Netbook featuring Gachapin and Mukku from the children's show "Ponkikki"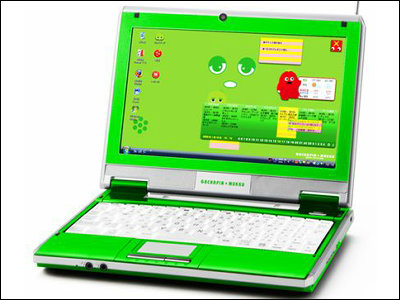 (This article was originally posted in Japanese at 14:59 Feb. 06,2009)

Gachapin (the smooth green guy with striped tummy who is supposed to be a dinosaur) and Mukku (furry red guy with propeller on his head, who is actually a Yeti) are popular characters from the children's TV programme "Ponkikki", kind of like Barney & Friends, who are recognised by practically every kindergartener in Japan.

Cellebrating the 35th anniversary of the show (and 35th birthday of the two), a low-price netbook featuring Gachapin and Mukku is going to be released.

Read on for details and pics.
(Japanese)BANDAI NETWORKS CO.,LTD. /News Release

As an official model of "Gachapin and Mukku", this notebook features wallpapers, screensavers and audio contents. Now available by pre-order (until March 20th) at LaLaBit Market(Jp). The price is 79,800 yen (about 870 USD).

Green "Gachapin" themed body. Comes with a red "Mukku" carrying case.



Some of the features. Wallpapers, screensavers and gadgets in which Gachapin and Mukku tell you the weather and TV program listings.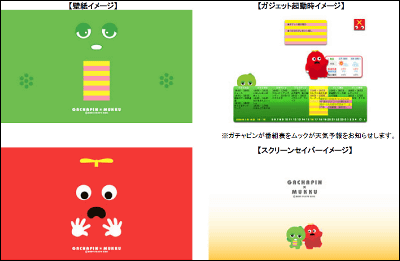 Audio contents includes Gachapin and Mukku's voice saying "I'm starving", "I'm getting sleepy" when the battery goes low, "Bye bye","Night-night, sweet dreams" when you shut down the computer, asking "Are you really gonna chuck it?" when you clear the Recycle Bin. They even got Kansai dialect like "Nandeyanen!(WTF)" and "Akan, akan (No way)"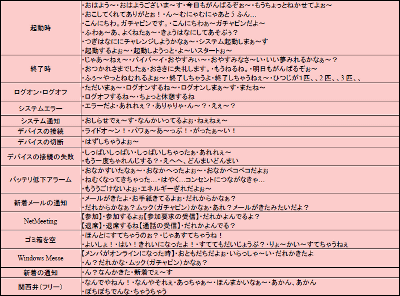 Features Intel(R) Atom processor N270 (1.60 GHz), Windows XP Home Edition(SP3), 1GB memory, 160GB HDD, 8.9 inch wide(1040x600) TFT LCD, 1.3M pixel camera, 1seg tuner, wireless LAN, and the battery life is 4.7 hours.

Related Posts:
"MoeSD" -the Micro SD featuring MOE-able characters released - GIGAZINE

Wooden USB Memory with Post-it "USB Memo2ry" - GIGAZINE