Wooden USB Memory with Post-it "USB Memo2ry"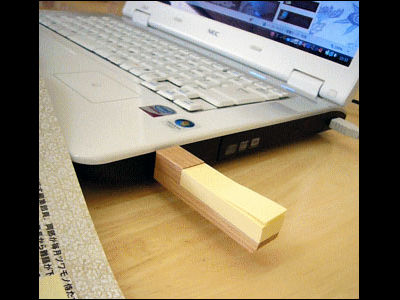 (This article was originally posted in Japanese at 16:59 Feb. 05, 2009)

Here's a soon-to-be-released USB memory with smooth and warm white oak body soft to your touch and a post-it note always at your service. Handy! And it actually looks pretty good, too.

Read on for details and pics.

(Japanese)Funny, Happy and Unique USB gadgets shop Ebisu-ya : USB Memory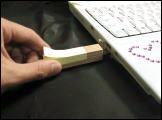 Actbrise Co. Ltd(Jp) is releasing a wooden USB memory with post-it notes named "USB memo2ry" -pronounced, of course, "USB memo tree". They are now accepting pre-orders online, to be shipped in late February.

Specifications:
Product Name: Benri Memory USB memo2ry
Product Number: AB-R017-002
Price: 2680yen including tax (about 30 USD)
Interface: USB 2.0
Capacity: Flach Drive 2GB
Demention: approx.15mm(W)×83mm(D)(including USB)×16mm(H)
Size of the note pad: 15mm(W)×50mm(D)×10mm(H)
Weight: approx.14g(including a notepad)
Material: Paper, Wood(White Oak)
Required OS: Windouws Me/2000/XP/Vista/
Mac OS 9.0 or later, Linux Kernel2.4.2 or later

Comes with 100 sheets post-it note pad, and could be replaced by your average post-it when used up.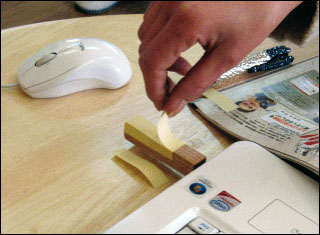 The manufacturer is fully aware of some computers having up side down USB ports, which would make the post-it unapproachable, but they insist you'll be totally capable of writing and using the post-its by using a extention cable.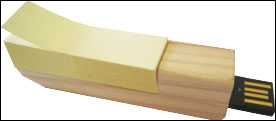 Related Posts:
"MoeSD" -the Micro SD featuring MOE-able characters released - GIGAZINE

A new adapter will enable you to use 16GB Memory Stick Pro Duo. - GIGAZINE