Video Documentary: 15 Years from the Great Hanshin Earthquake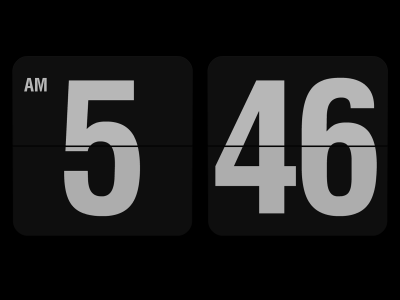 (This article was originally posted in Japanese at 05:46 Jan. 17, 2009)

Great Hanshin Earthquake occurred on Tuesday, January 17, 1995, at 05:46 JST.

Here's a collection of video footages from that time and the following days, as a reminder of how suddenly an earthquake can turn your world upside down. Our heart go out to the people in Haiti.

Videos after the cut.
Here's the very first news report on the earthquake.

YouTube - 阪神大震災第1報(0:33)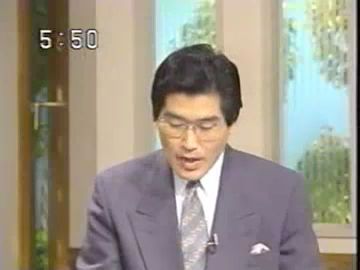 As we are based in Osaka, most of our staffs are from Hanshin region. Though we were mostly little kids at the time, the memory is still vivid. One of our staff who was in Osaka at that time recollected that "All the cupboards fell and the light went out with thunderous sound. At first I didn't realise it was caused by an earthquake. Fortunately I could locate the flashlight and check the state of my room. I could hear the voices of my family and tell they were all alive at least, and we became aware that there must have been an earthquake, but it was before dawn, pitch black outside and all the electricity went out, so we couldn't tell what was happening beyond our walls."

YouTube - 阪神淡路大震災の報道 1 of 4(6:33)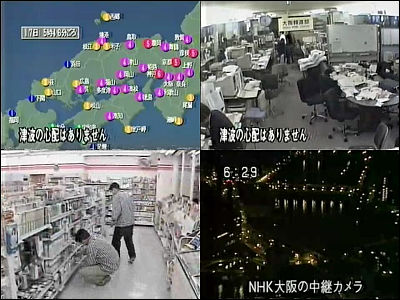 Live camera report from NHK Osaka showing Hanshin Expressway, and footage from security camera on office floor. Osaka Fire Department reports the fire spreading in Suminoe ward, all the expressway in Kinki region was reportedly blocked but the reason was unclear. Magnitude in Osaka was reported as 4, and later it became clear that it measured 6 in Kobe.

YouTube - 阪神淡路大震災の報道 2 of 4(8:07)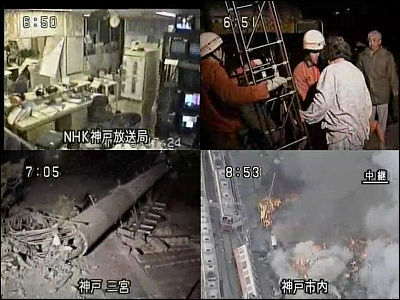 Around 6:30 a.m., gradually the damage were unveiled, but no death were confirmed yet. Some of you might have seen the videos from NHK Kobe Station when they were broadcasted all over the world. Around 8:50, bird's-eye view of Kobe shows collapsed building, massive fire and endless smoke. Imagine waking up on a schoolday and seeing this on TV. You'd think they've started a war or something.

YouTube - 阪神淡路大震災の報道 3 of 4(8:14)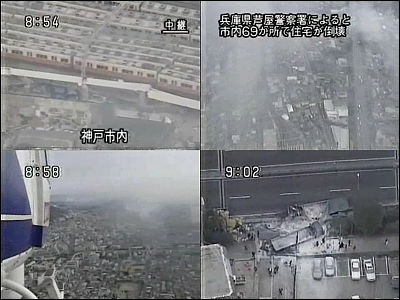 More footages of Kobe from helicopter. The number of deaths and "buried alive" starts coming in.

YouTube - 阪神淡路大震災の報道 4 of 4(9:33)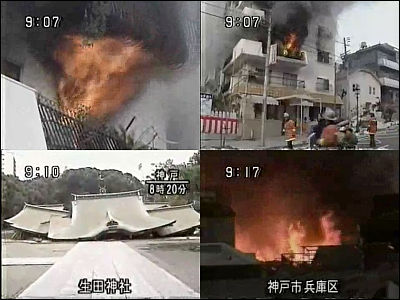 Around 9 a.m. more on the fire, the futile attempt of firefighters, and shocking image of the collapsed Ikuta Shrine. All the subway lines in Kobe and Osaka were cancelled. By this time most of Japan was aware of the disaster, but the extent of the damage was as yet undetermined.

YouTube - 阪神大震災 報道とは?カメラ撮るヒマあったら手伝え!(6:35)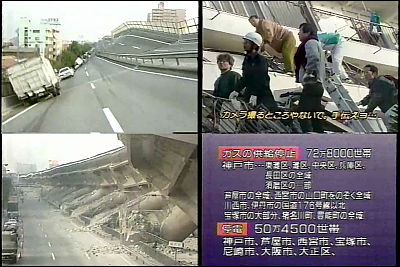 Here's another famous video including the "Lend a hand if you're fit enough to shoot camera!" shout. At 8:30 when usually the morning news shows start, all TV networks cut the commercials and started special reports on the earthquake. TBS brought back commercials around 10:30, but MBS(TBS's affiliated station in Osaka) made their own decision to keep out the commercials for as long as 43 hours. MBS replaced the commercials with info on traffic, lights-out, water stoppage, closed schools and such.

YouTube - 阪神淡路再震災 NHK あの動画のその後(1:19)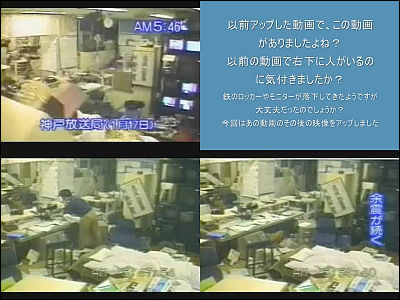 Did you see the man waking up in the bottom right of the "NHK Kobe" footage? This is what happened to him after the famous video.

YouTube - 阪神・淡路大震災 高速道路の被害状況 Earthquake in kobe(4:13)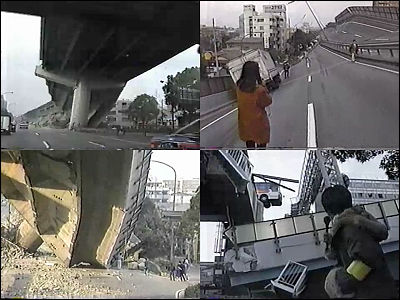 Hanshin expressway, crashed cars, a bus on the verge of falling down, lots of emergency vehicles. This is the full effect of soil liquefaction.

YouTube - 阪神・淡路大震災 神戸市中央区の被害状況 Earthquake in kobe(3:16)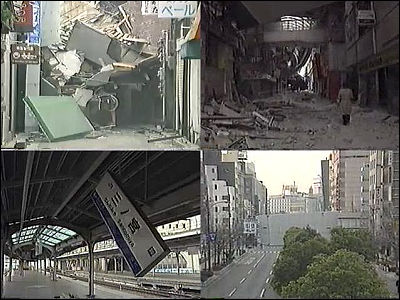 Footages from Chuo Ward, Kobe. An old woman crying "This has to be a dream!" A fallen building blocking a whole street.

YouTube - 阪神・淡路大震災 淡路島の被害状況(4:27)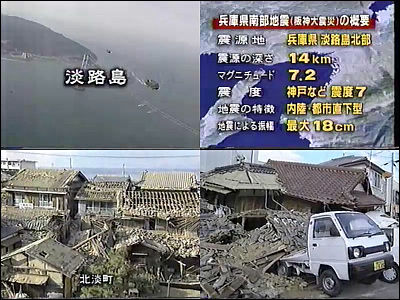 Nojima seismic fault and Awaji Island, near the epicentre of the earthquake.

YouTube - ドキュメンタリー(1:30)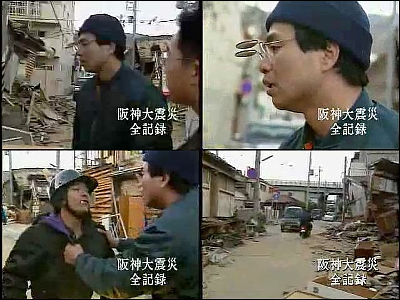 A man walked back from Osaka to check on his family (mother, elder brother, a cousin and his wife), only to find the collapsed home. Then his cousin comes by on a scooter, telling him "Listen carefully, your mom..."

YouTube - 1995年 阪神淡路大震災時 AC CM(1:15)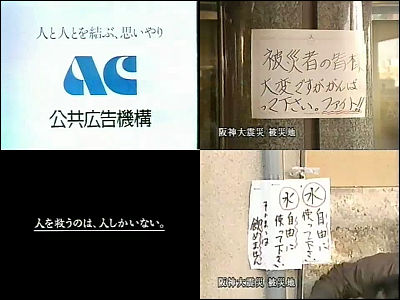 Ad Council Japan's commercials around that time.

YouTube - ナショナル「1月17日に生まれた命」(1:01)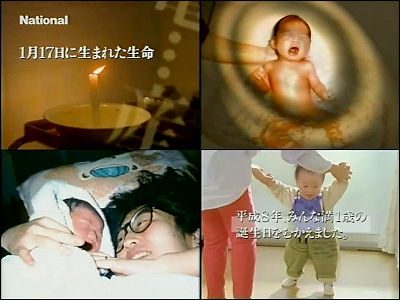 Panasonic (former National)'s commercial aired in Kansai region in 1996, showing 1-year-old babies born in Hyogo Prefecture on the day of the earthquake (Jan. 17, 1995). These babies will be entering highschool this spring.

The videos below are from Yomiuri TV's documentary programme aired in 2005, 10 years from the quake.
YouTube - THE GREAT HANSHIN-AWAJI EARTHQUAKE (01)(9:53)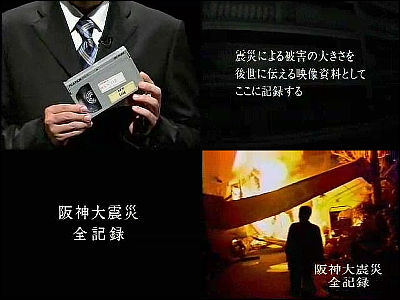 YouTube - THE GREAT HANSHIN-AWAJI EARTHQUAKE (02)(9:47)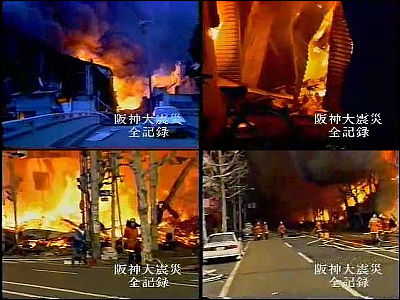 Fire came out in Nagata Ward around 6:30 a.m. The water supply was cut, there were not enough equipment and not enough firefighters, people could only watch as the fire grew.

YouTube - THE GREAT HANSHIN-AWAJI EARTHQUAKE (03)(9:26)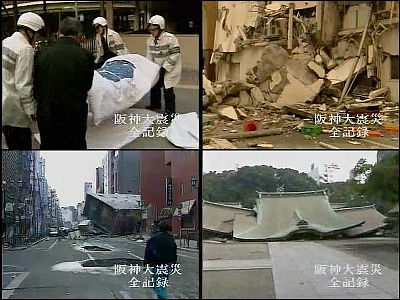 Central Kobe, where it's usually busy with workers and shoppers.

YouTube - THE GREAT HANSHIN-AWAJI EARTHQUAKE (04)(9:17)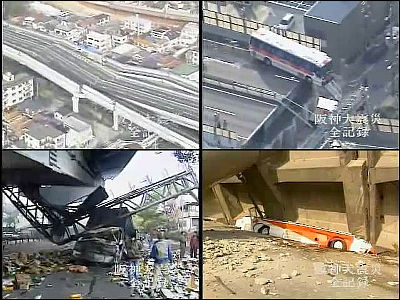 Hanshin expressway. The bus driver slammed on the brake as soon as he felt the ground moving, and just when the bus came to a halt, the road dropped right in front of his eyes.

YouTube - THE GREAT HANSHIN-AWAJI EARTHQUAKE (05)(9:58)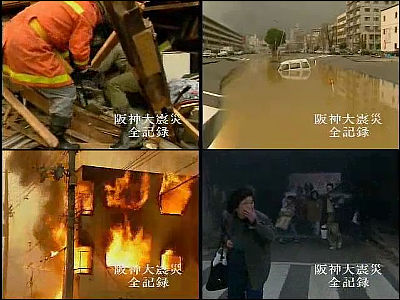 Rescueing an old man trapped under the wreckage, collapsed buildings, flooded road, burning apartments, a car horn running somewhere, sound of explosion...

YouTube - THE GREAT HANSHIN-AWAJI EARTHQUAKE (06)(9:05)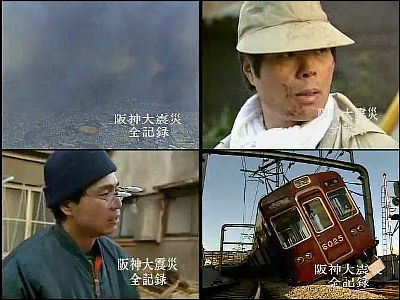 More fire and smoke, wrecked train, inside the train where you can spot bloodstain...The night falls and the traffic is like hell to get out of the city, still no light, no water supply...

YouTube - THE GREAT HANSHIN-AWAJI EARTHQUAKE (07)(9:18)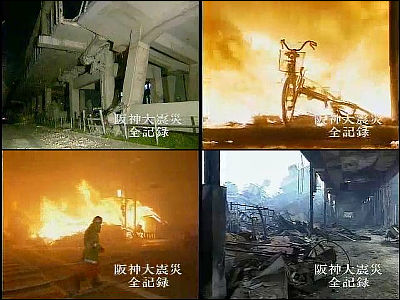 Ashiya city, the rescue effort continues after dark. You can hear voices from under the wreckage but can't see their face. Nagata Ward around midnight, the fire's still spreading, no water from the hose.

YouTube - THE GREAT HANSHIN-AWAJI EARTHQUAKE (08)(10:03)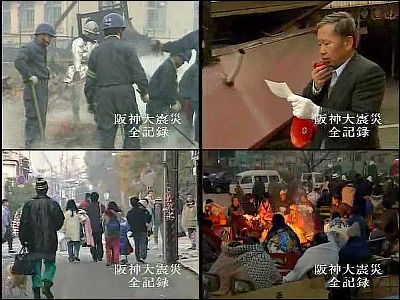 January 18th. A man who left his home in Gifu Prefecture at 4 in the morning to check on his brother. Higashinada Ward, evacuation was called due to gas leakage. Newspaper reported 1,200 deaths by this morning.

YouTube - THE GREAT HANSHIN-AWAJI EARTHQUAKE (09)(9:45)

People living in their car, helicopters of the Self-Defense Forces, camp on schoolgrounds, kids who spent the night outside since they're afraid the school building will collapse on them. Fire in Sannomiya, Kobe, explosion, the cameraman gets almost burned.

YouTube - THE GREAT HANSHIN-AWAJI EARTHQUAKE (10)(9:06)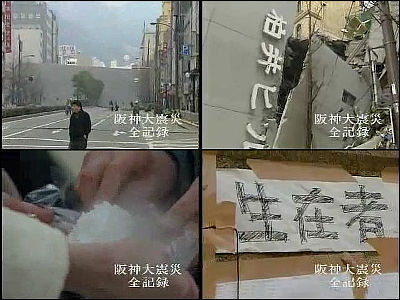 Young men run in to the fire, police try to stop them. Ashiya city, neighbours sharing cooked rice. Water to cook the rice was courtesy of drinking-water tank on a boat, the rice were gathered from households. Higashinada Ward, January 19. Hand-written "Surviver List" on the school gate of Nada Junior and Senior High School, one of the most prestigious private school in Japan. In the school's gymnastic hall are countless coffins, and people mourning.

YouTube - THE GREAT HANSHIN-AWAJI EARTHQUAKE (11)(8:17)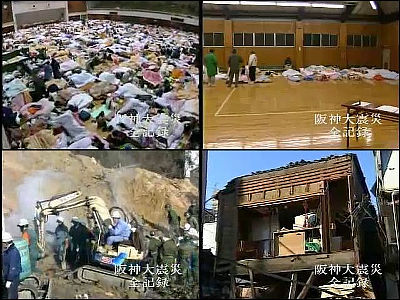 5 a.m. Jan. 18, town gymnasium in Nishinomiya, Hyogo. Jam-packed people, and a trainig hall was kept for bodies. More trapped people, rescue effort, a family album uncovered from the remains...

Related Posts:
YouTube VIDEO AWARDS JAPAN 2009 announced, Animation Award went to "Fumiko's Confession" - GIGAZINE