"Yokoku.in" -Share Warnings, Prevent Crimes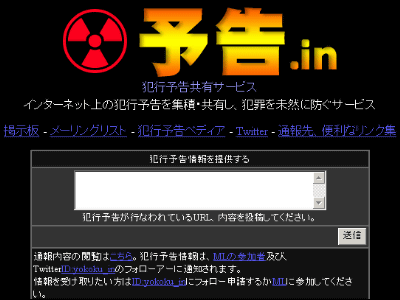 (This article was originally posted in Japanese at 14:56 Jun. 12, 2008)

Media reported that the mass murder occurred on June 8 at Akihabara, Tokyo, had been announced beforehand on the Internet. As a reaction to this, a new website appeared. Yokoku.in is set up to collect and share forenotices of crime. The ultimate goal is to prevent the actual crime.

If you find a threatening message, simply post it and you could share the information swiftly.
Yokoku.in -Crime Warning Sharing Service

The purpose of this website, "Yokoku.in (Forenotice. in)", is to prevent the actual occurrence of crime by gathering and sharing forenotices on the Internet.

Besides periodically collecting articles and materials related to crime warnings from "Hatena Bookmark" and "2channel" (both major websites in Japan) and other blogs, the site contains a form to post the URL and the content of the threat, a mailing list to inform new forenotices of crimes, an encyclopedia of crime warning "Hankoyokoku-pedia", and other services.

This is the form to post informations of forenotices.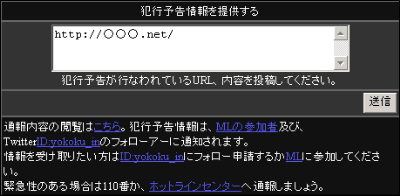 "Hankoyokoku-pedia" bears a striking resemblance to something vaguely familiar...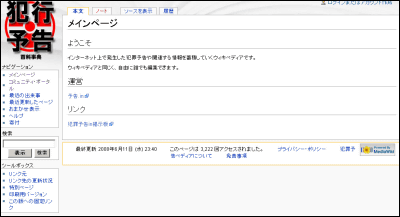 The website advices to call 110(Japan's emergency number) if you get the feeling that the matter should be dealt immediately. Can this website really prevent an actual crime? One can only wonder.

Related Posts: