Exploring Sakaiminato City, the promised land for Kitaro fans and all things supernatural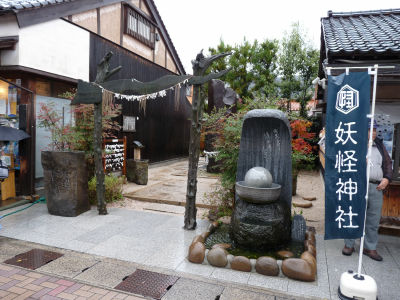 (This article was originally posted in Japanese at 22:39 Dec. 27, 2008)

Seaport town Sakaiminato, Tottori, is the birthplace of Shigeru Mizuki, the creator of GeGeGe no Kitaro, and now promoting the city as "Sakaiminato, the town of fish and Kitaro" with Kitaro and other friendly monsters waiting at every corner.

Recently we've got a chance to visit Sakaiminato and explore the spooky wonderland. So here's our expedition record with pics and videos.

Sakaiminato Station. 45 minutes ride on Sakai Line from Yonago Station brought us to Kitaro's town.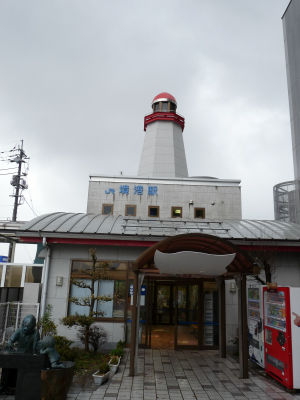 The train we took was painted Kitaro themed, with on-train announcements made by voices of Kitaro and Neko Musume.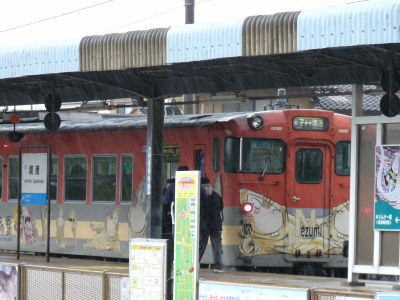 More than ten-million people have visited "Mizuki Shigeru Road".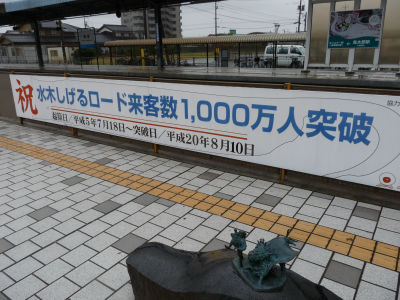 The road sign to "Mizuki Shigeru Road".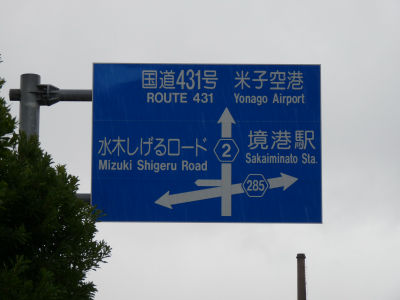 Guideboard and the Station Plaza was full of Yokais.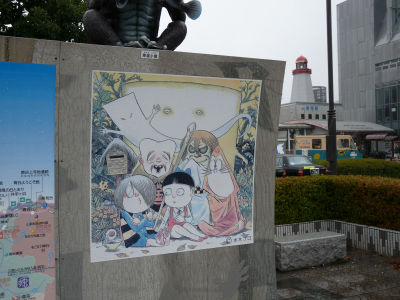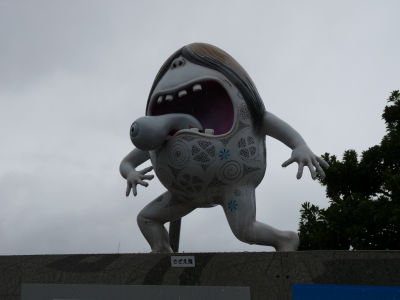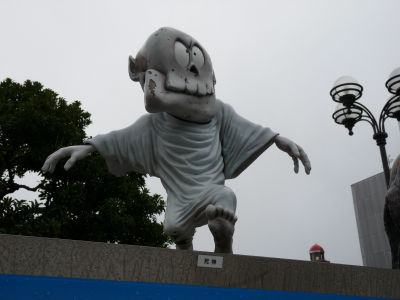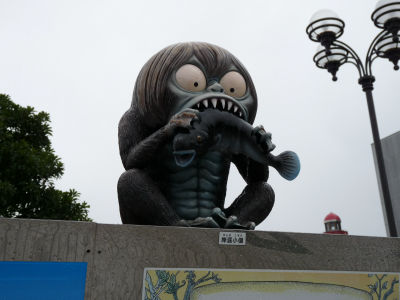 Sakaiminato Ekimae Koban (police box infront of Sakaiminato Station).


Alias "Kitaro Koban".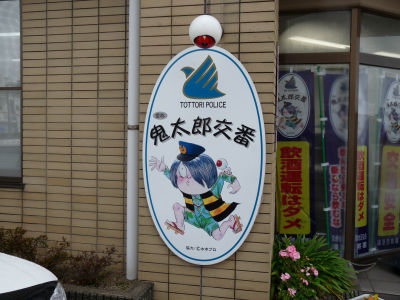 Kitaro was patrolling.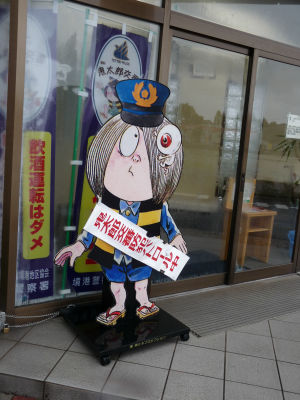 A ship of Japan Coast Guard was in harbour.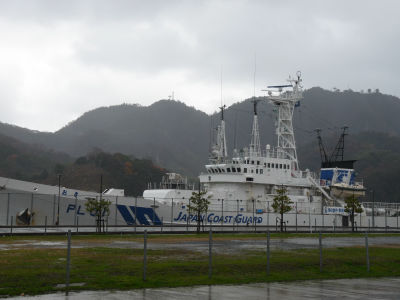 "Yokai Soko (Spook's Warehouse)" facing the ship.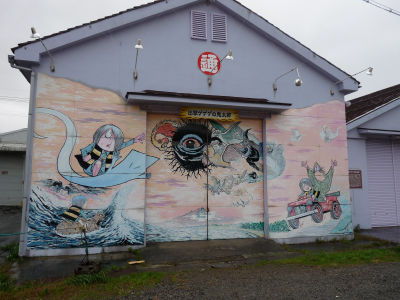 The warehouse has paintings of "Kitaro driving Spooksmobile", "Kitaro riding sea turtle", "Kitaro taking a magic carpet ride on Ittan-momen". Kitaro and his clans wishing safety in air, sea and ground transportation.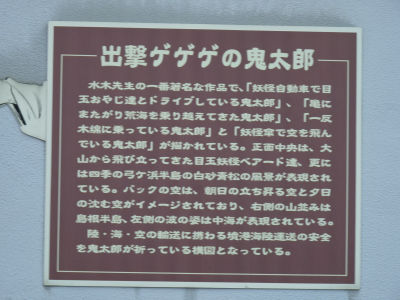 "Japan Yokai Map" on the side wall.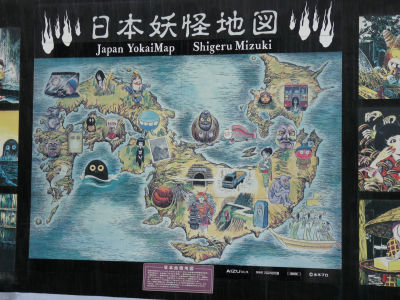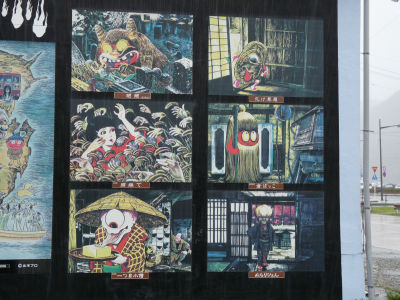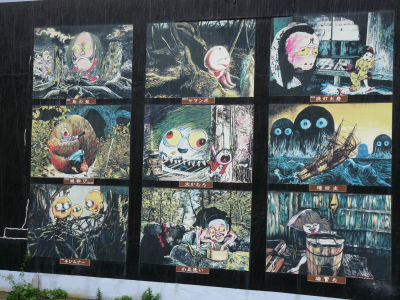 Warehouse on the right had "Yokai Tsuzura (Yokai Trunk)" painted, which looks like monsters flying out of Pandora's box.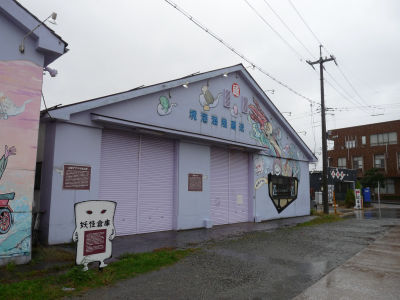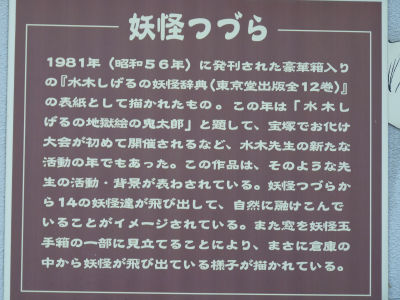 These warehouses are property of Sakaiminato Kairiku Unso (Sakaiminato Sea and Ground Transport), built in 1956. Kitaro and his friends adorn the walls since 2001.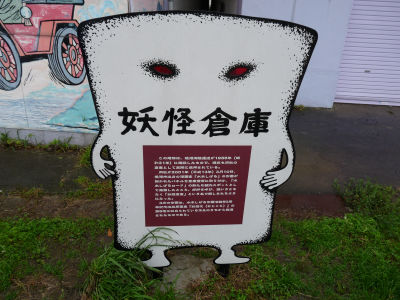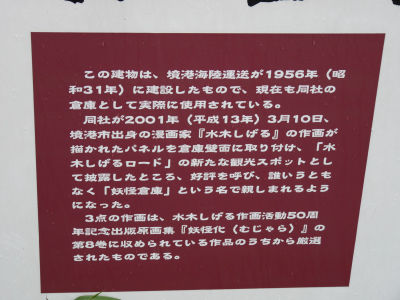 This is Minatosakai Koryu Kaikan where Oki Shipping's waiting rooms are located.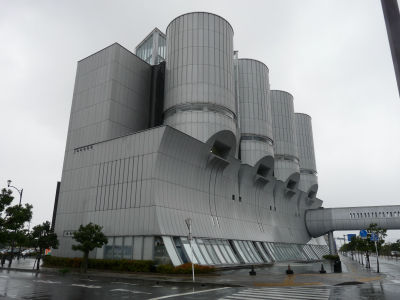 Not related to Yokai, but it kind of looks like four chefs gawking at something.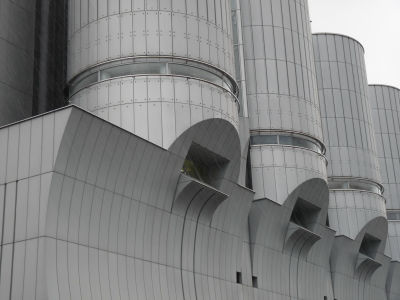 A ferryboat arrived.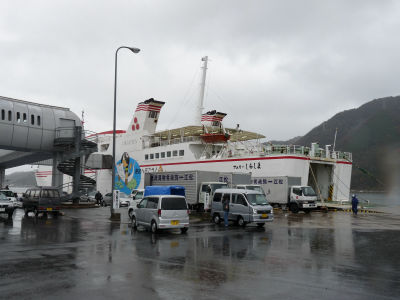 Is that Kitaro?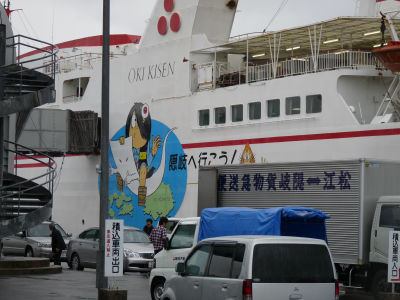 Kitaro and Nezumi Otoko (Rat Man) are painted on Ferry Shirashima, inviting us to Oki Islands. We were tempted, but saved it for another visit.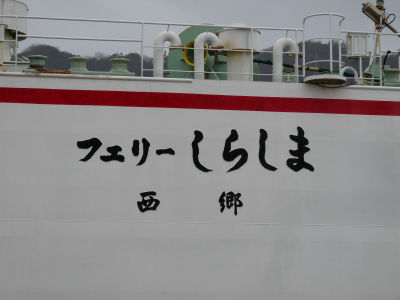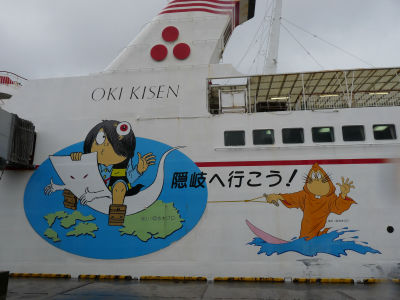 Strolling the town, we found a Kitaro vending machine.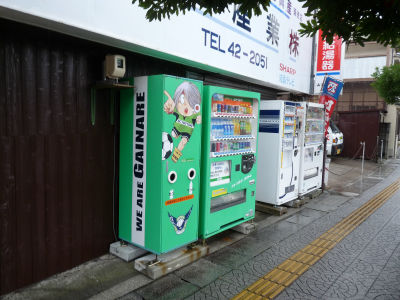 Kitaro playing football, impossibly in his geta(flip-flops).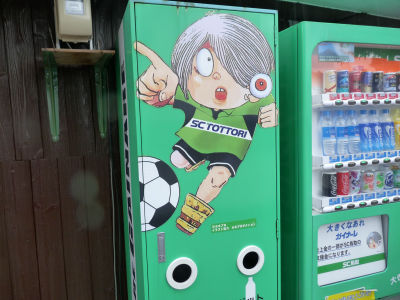 Part of the sales goes to support local football club Gainare Tottori.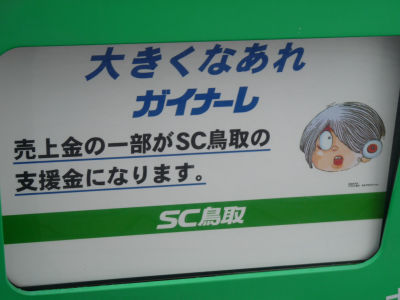 Eye-catching recycle bins of Kitaro and other characters could be seen all over the town.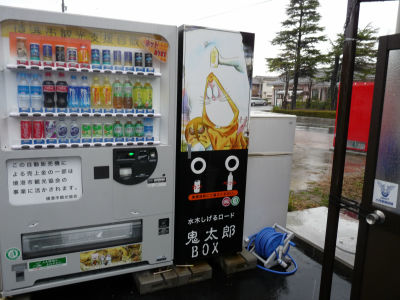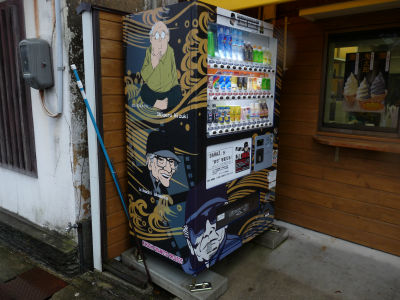 Kitaro does not tolerate littering.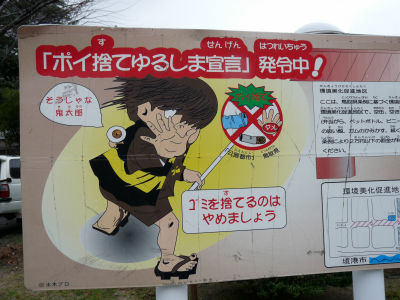 Original illustration hung at Chiyomusubi Shuzo Okazora Honten(Chiyomusubi Sake Brewery Okazora Headshop).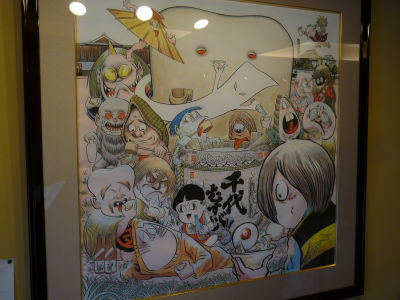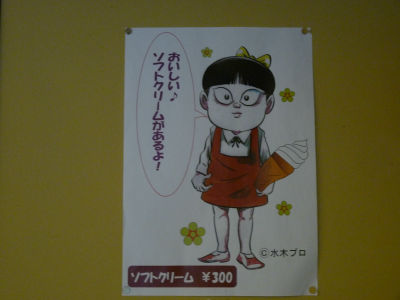 You can stretch your legs here watching the Japanese garden.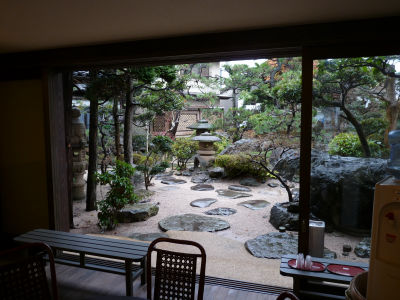 The Post Office is called "Mizuki Road Yubinkyoku". You can get original postmark if you mail from the counter on week days.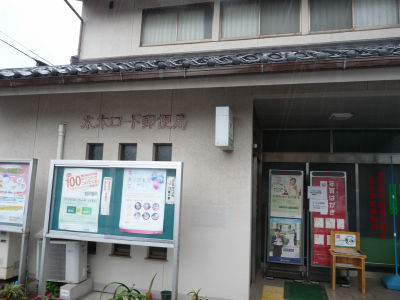 Ittan-momen's stamp for "Yokai Stamp Rally" was there. Collect all the stamps on Mizuki Road and get a souvenir.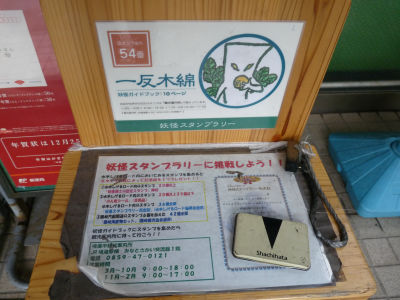 Kitaro Chaya (Kitaro Tearoom), not related to the one in Chofu。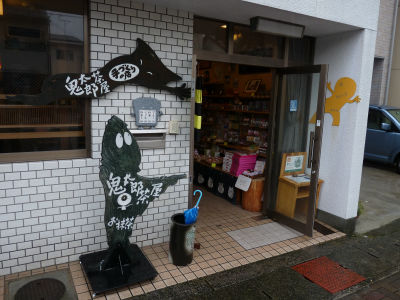 Medama Oyaji (Old man Eyeball) stands in for Roku-Jizo (six statues of Ksitigarbha representing the Six Realms) near the Yokai bookshop Mizuki Shigeru Bunko.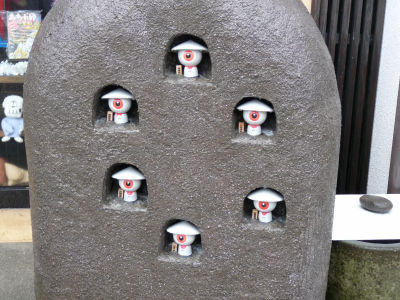 Graffiti of Kitaro and Nezumi Otoko were painted by Shigeru Mizuki himself on the wall of Mizuki Shigeru Bunko.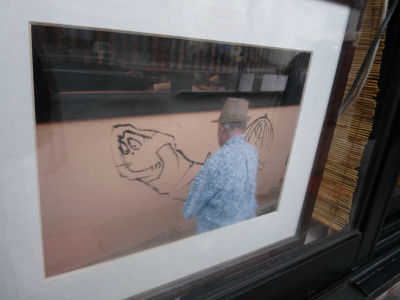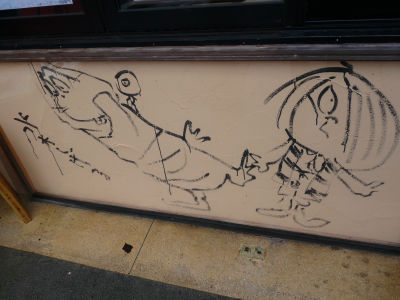 Mr. Mizuki is as popular as Kitaro.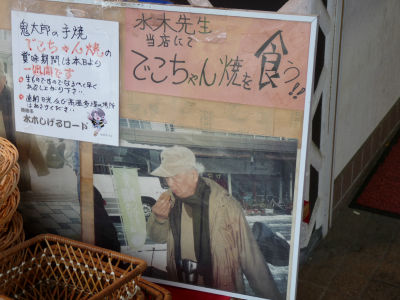 There's a Yokai Jinja (Yokai Shrine) on Mizuki Shigeru Road.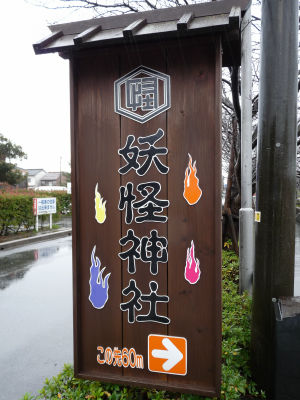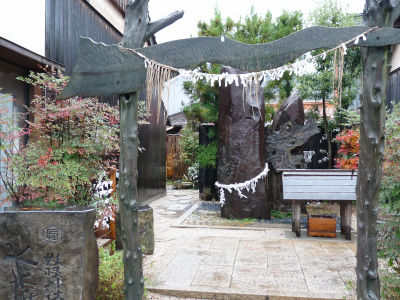 Medama Oyaji is spinning in the purifying water.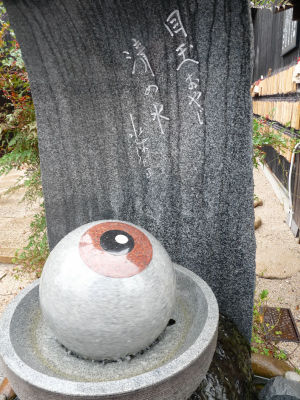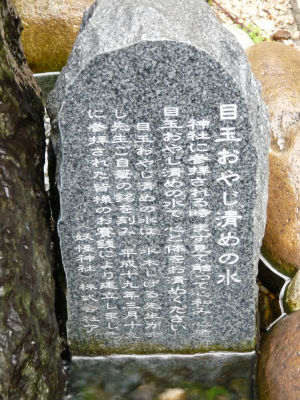 Watch him spin.


Dedicate "Yokai Nenriki Bo (Yokai Psychokinesis Stick)" instead of ema for your wishes.


Touch this "Medama Ishi (Eyeball Stone)" to get Yokai Power.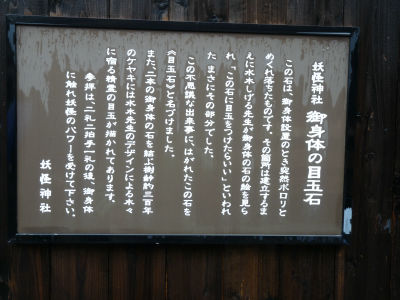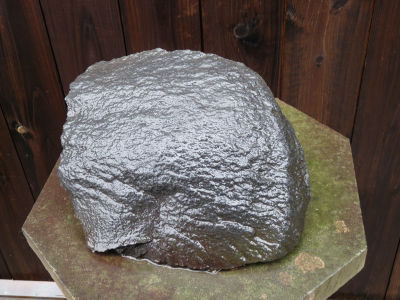 We've tried the "Karakuri Yokai Omikuji (Clockwork Monster's Fortune)" for 200 yen (about 2 dollars).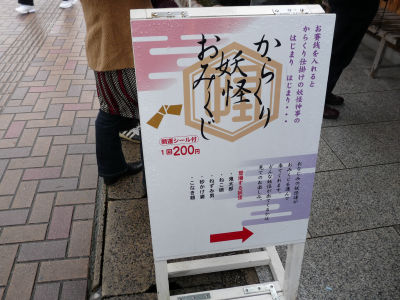 Wind-up dolls of Kitaro, Neko Musume(Cat Girl) and Nezumi Otoko brings your fortune.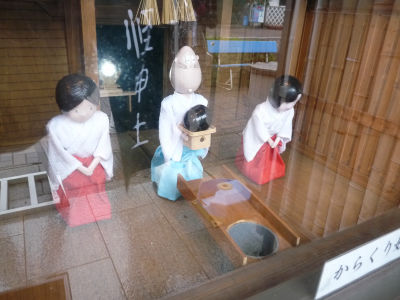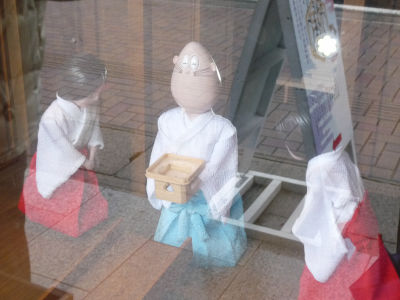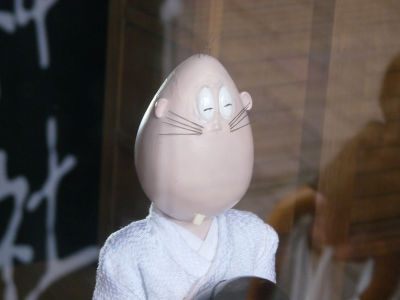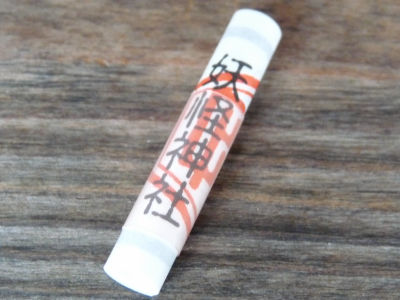 "GeGeGe no Yokai Rakuen (GeGeGe Yokai Paradise)" is located on a back-alley near Mizuki Shigeru Road.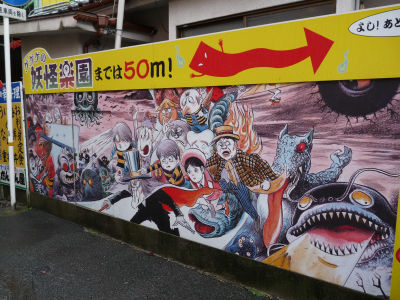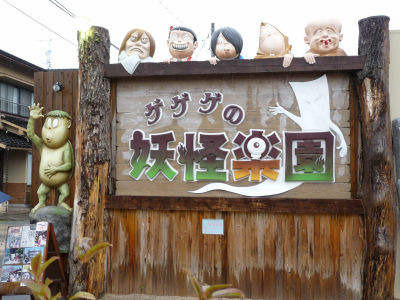 Neko Musume smiling wickedly like the Cheshire Cat.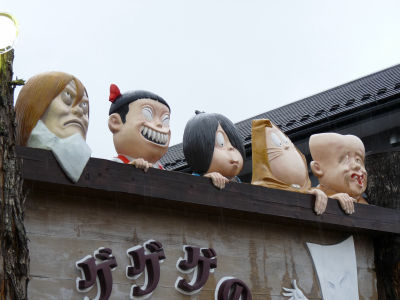 Kitaro's tree house.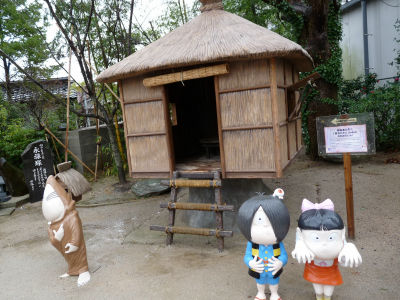 The washroom's signs were silhouette of Kitaro and Neko Musume.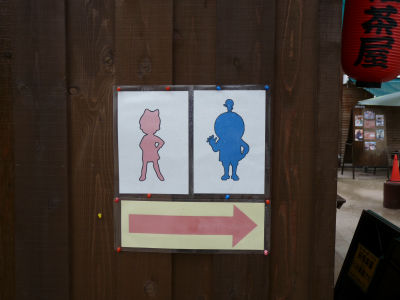 "Hamaloop Bus" circles Sakaiminato City. The fare is 100 yen.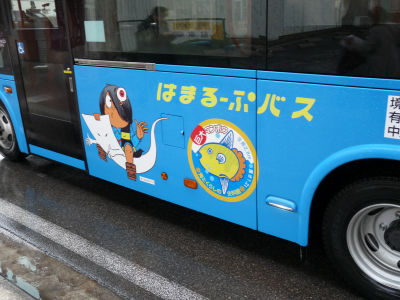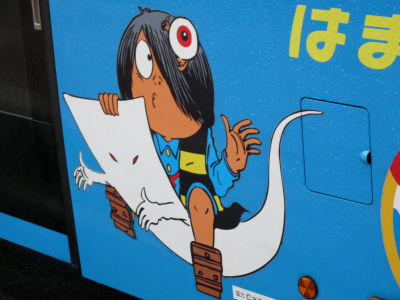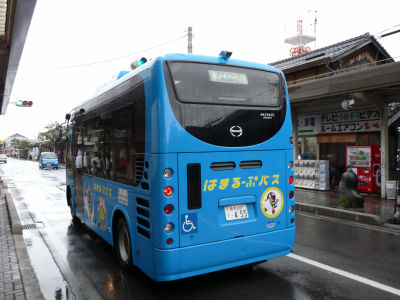 Charming Neko Musume sign on a jumble shop.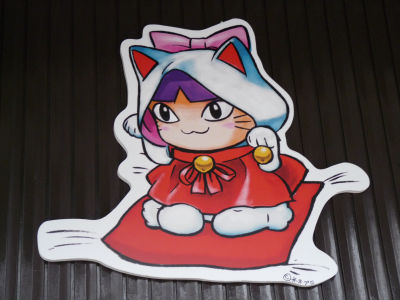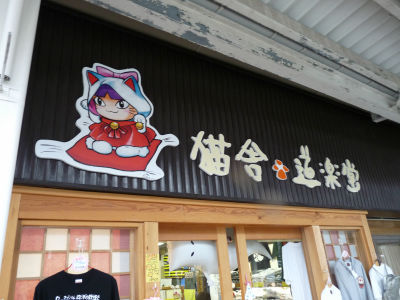 Is this where Kitaro got his haircut?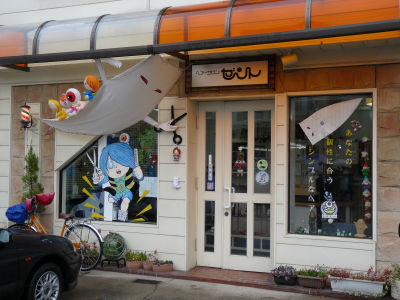 "Yokai Manju" in the shapes of Kitaro, Nezumi Otoko, Medama Oyaji and Neko Musume. Little pancakey thing filled with custard cream and sweet bean paste.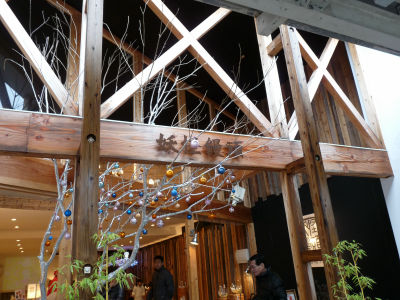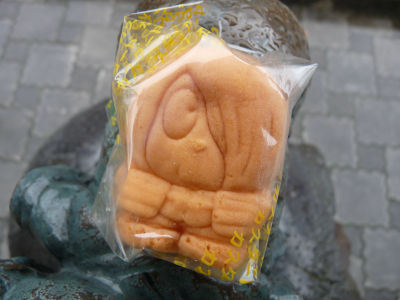 Burger Shop "Sanpei Chaya" famous for its speciality "Maguro Burger (Tuna Steak Burger)".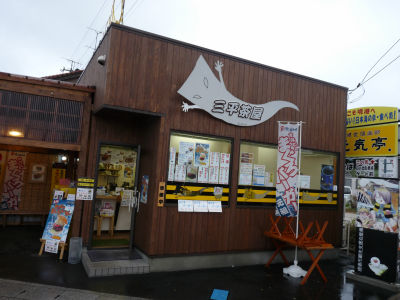 Manju shop "Kitaro House".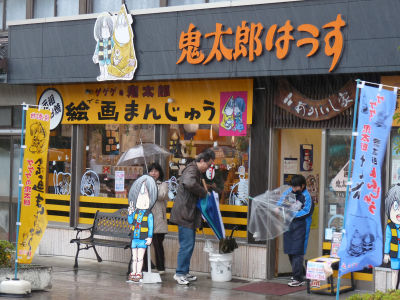 Black and yellow soft ice creams representing Ying and Yang, the two-toned one being "Kitaro's Softcream" for he is half yokai and half human.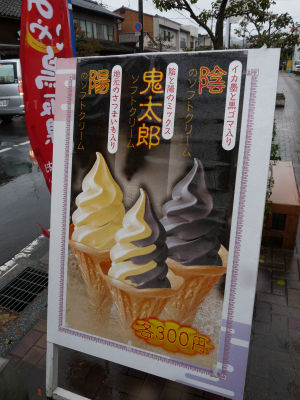 Kitaro fish-paste cakes.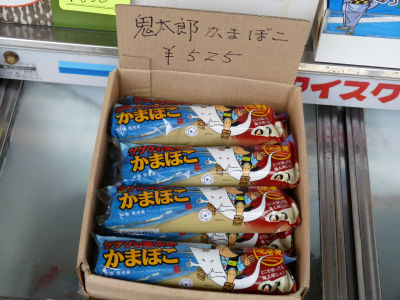 Beware! Kitaro and his friends could be spotted here and there and everywhere in Sakaiminato.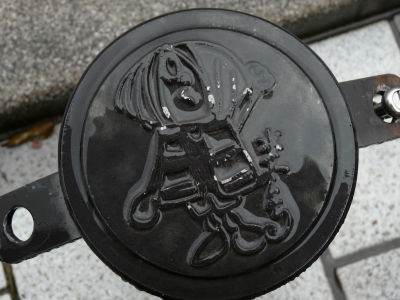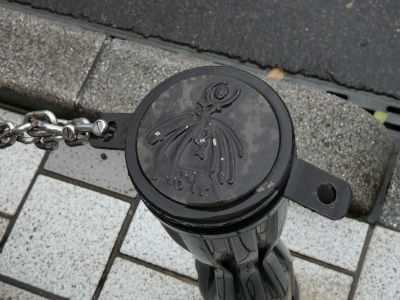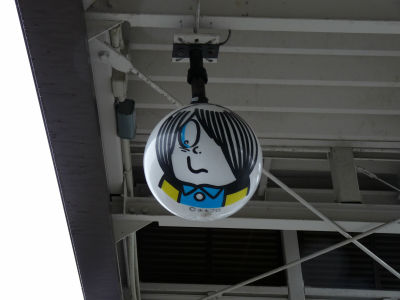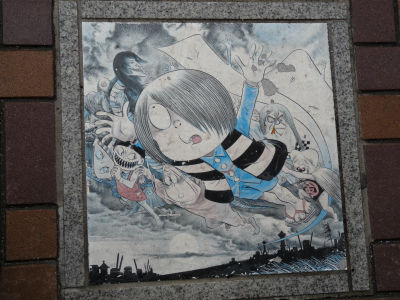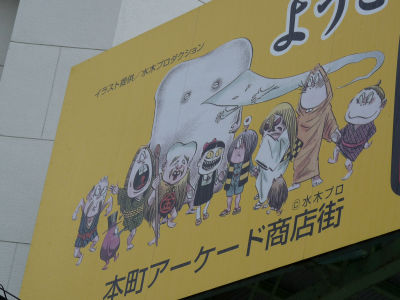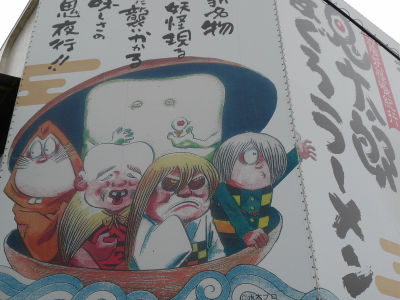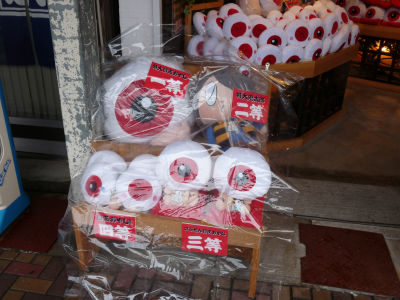 And there were panels you can take pictures with.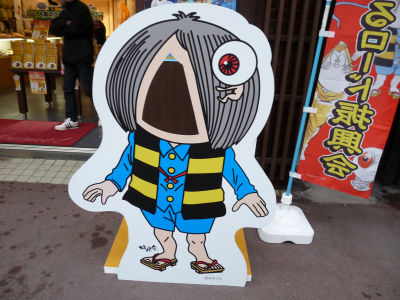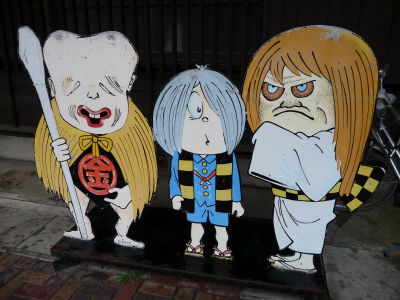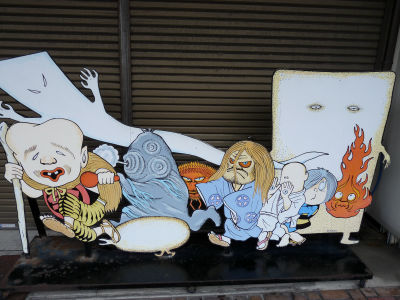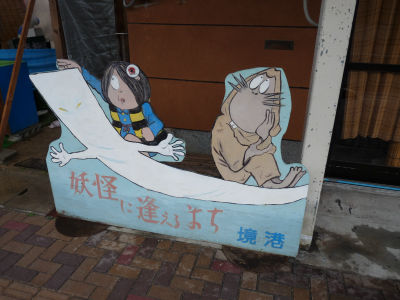 Related Posts:
Kitaro and Neko Musume's announcements on Kitaro Train - GIGAZINE

Papercraft Kitaro planes distributed by Japan Air Self-Defence Force - GIGAZINE

Picnic with spooks at Kitaro-Chaya - GIGAZINE

Where has the fortune telling little bird gone? - GIGAZINE