"MAGI System" the Supercomputer of EVANGELION Actually Exists!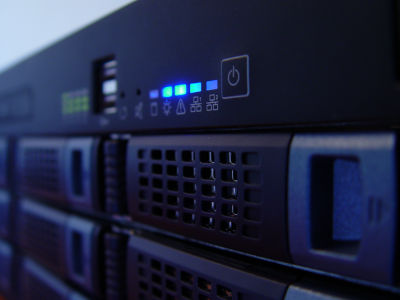 (This article was originally posted in Japanese at 03:43 Aug. 4, 2008.)

Those entranced by the anime "Neon Genesis Evangelion" should be familiar with the fictional supercomputer "MAGI system", composed by three computers, each bearing the names "Caspar" "Balthazar" "Melchior" of the Biblical Magi (Three Kings).

But did you know there exists an actual supercomputer named "MAGI system" ?

Details follow.
Computational Biology Research Center[CBRC]|Computer System<NEC Cluster>

The actual "MAGI system" is working in the Computational Biology Research Center(CBRC), a division of National Institute of Advanced Industrial Science and Technology (AIST) which is a core facility for bioinformatics research and human resources development in Japan.

Unlike the fictional "MAGI system" of Evangelion, it consists of four computers, adding "Mary" to the Three Kings.

It carries 1,040 processors (Pentium III 933MHz Dual), 520GB Memory(1GB x 520), 19,152GB HDD. The operating system is RedHat Linux 7.1.

Caspar(Molecular Function) on the left with Balthazar(Biological Systems) behind.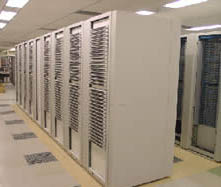 Mary(Molecular Function) with Melchior(Genome Informatics).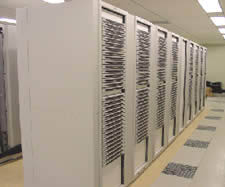 "MAGI system" attained world's highest performance as a large-scale PC cluster system carrying Pentium CPU in 2001, according to the following press release.

(Japanese)CBRC Magi system Express5800 Parallel PC-Cluster

The question is, how did they came up with the name "MAGI" ? Was it developed by extremely religious scientists, or what? (my bet is "or what", since the former is highly unlikely in Japan, plus, naming three computers MAGI could be considered natural, but FOUR? ) Anyway, the computor is SUPER! Go, Geek!!

Related Posts:
Official English title of the movie "Evangelion Shin Gekijoban: Ha" decided - GIGAZINE

Genuine or Forgery? Autographed Illustration of EVANGELION up to bid - GIGAZINE

Neon Genesis ASOGELION the Movie!! - GIGAZINE

Get Your Free EVANGELION New Year's Card! - GIGAZINE

in Note, Posted by darkhorse_log