Yahoo! Japan Search-Word Ranking of 2008

"Yahoo! JAPAN" announced its top searched keywords in 2008.

Let's take a look back on the year 2008 through these various keywords, including the famous video sharing website, Japan's biggest social networking website, hot-shot comedian, teenage heatthrob, upcoming young actress, and so on.
(Japanese)2008 reference word ranking - Yahoo! JAPAN

Yahoo! JAPAN is reporting reference word top chart of 2008 (summary period: Jan 01 2008 to Oct 31 2008). The report is posted today and available until January 31, 2009.

This is the Top 10 reference keyword of all genre. The First prize goes to "YouTube"(ranked 2nd last year), the second prize "mixi"(the most popular SNS in Japan, ranked 1st last year), 3rd "2-channel"(the biggest BBS in Japan), 4th "Google".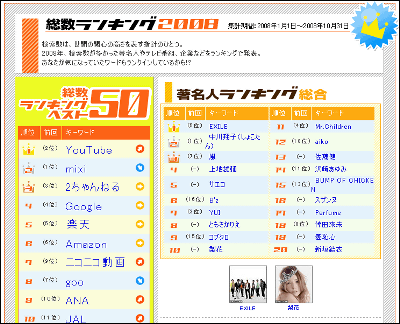 First prize of famous person ranking (woman edition) went to Shoko Nakagawa.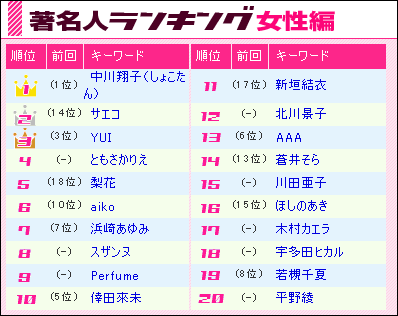 Top 20 chart of anime and game section. Top 3 words are "POKEMON" "Monster Hunter" "Code Geass", much-discussed-about anime and games this year.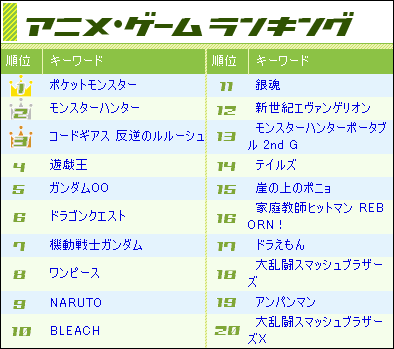 Top 10 keywords for Image Search. Actress Yoko Maki came on top.



Product Search ranking. "Nintendo DS i" came in the first place, which is remarkable considering it was first announced on October 2, 2008, only a month before the analysis was concluded.


Related Posts:

This article was originally posted in Japanese at 15:08 Nov 25, 2008.