The Annual Anison Day is Coming! -NHK Radio's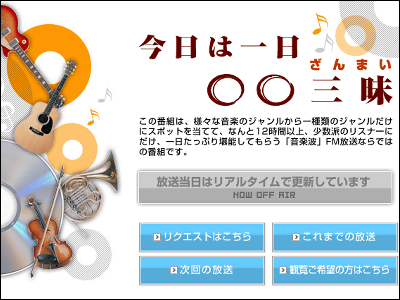 Japanese radio station NHK-FM announced the broadcasting date of this year's "Kyo-wa-Ichinichi-Anison-Zanmai(Today, all day long, Anison)" , the yearly programme that plays Anison (Anime Songs) only, all day long.

This year, the New Year's Eve is going to be seventh heaven for anime enthusiast, while it might be torture for some others.

Details Follow.
Today, all day long, Anison(Japanese)

The programme is scheduled at 09:15 to 24:30, Dec 31, 2008. Aside from being interrupted by News and Weather twice (11:50~12:15、18:50~19:20), it would be pure dose of endless anison and anime-talks all day, hosted by voice actor Ichiro Mizuki and voice actress Megumi Ogata. Song request will be accepted via Internet, starting December.

Sadly, this would be the final installment of the programme according to the website. So don't miss it !

Related Posts:
Ayanami and Goku, Amuro, Nobita appear on TV ad of "Little Big Planet" - GIGAZINE

This article was originally posted in Japanese at 09:00 Nov 01, 2008.