E-read the manga magazine "Morning Two" by Kodansha, All-Pages All-Free!!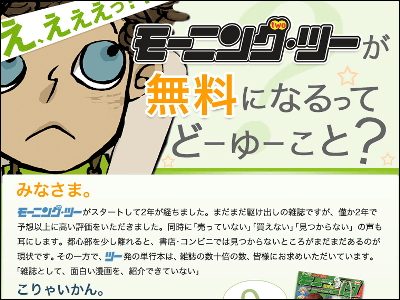 The monthly comic magazine "Morning Two" of Koudansha will be transmitted free on its website, in response to voices from readers like "It's not sold in my town." "I can't find it." "Missed it again. Sold out already", "It's impossible to buy" and so on.
When Morning Two becomes free, what kind of thing

According to this page, Koudansha decided to distribute all the pages of its monthly comic magazine "Morning Two" free, online. "Morning Two " was established two years ago and rapidly became an unexpected success with many popular mangas like "聖☆おにいさん" ("Saint☆Young Men", a comedy featuring Buhdda and Jesus vacationing incognito at Tachikawa, Tokyo). But while the books of each manga sells hundreds of thousands of copies (some even sold over a million), the magazine's circulation is only around 50,000 and many readers complain about its constant unavailability.

The free online distribution will start on October 22 with issue No.14, coinciding the sales date of No.15 so if you read No.14 online and liked it, you can buy a copy of No.15 in a bookstore and find out what happens next on your favorite manga. No.14 will be available online for a month, and then on November 22 the online distribution of No.15 will start as No.16 of the magazine hit the store. Another month later on December 22, distribution of No.16 starts with the sales of No.17.

The free distribution period is scheduled to be limited to three months at this moment, but there may be further distribution following the sales result of the period.

Here is a message from the editors.


You can buy other magazine and comic books with that money if you read Morning Two free.
There are many interesting comic magazines besides Morning Two.
We love comics. We'll be ecstatic if you find another good comic and love it.

Related Posts:

This article was originally posted in Japanese at 03:16 Oct 23, 2008.