Hitachi's new ultra-thin high-definition LCDTV saves 50% on energy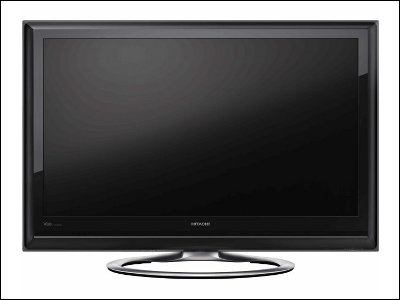 Hitachi developed an ultra-thin, super-light weight, low-power high-resolution LCD television, which runs on half the electricity of its predecessors.

A prototype will be displayed at "CEATEC JAPAN 2008".

Read on for more details.
(Japanese)An next-generation technology and a product are put on display in Hitachi booth of "CEATEC JAPAN 2008".

According to this release, Hitachi is going to exhibit a prototype of the new 37-inch LCD television at "CEATEC JAPAN 2008" held in Makuhari, Chiba, from September 30 to October 4. It is an evolved model in the "Wooo UT" series of current thinnest LCD televisions.

By carrying RGB_LED back light, the new model is thinned to 15mm while the existing "Wooo UT" models are 35mm thick. It realized high color reappearance of more than 150% to HDTV. Weighs only 10kg(22 lb), and power consumption is reduced to 50% in ratio of last year's models.

Also exhibited in Hitachi booth at "CEATEC JAPAN 2008" are the "Video de mail" service for Net-TVs, which allows you to enjoy on the television the images and video sent by family's and friend's computers and cellular phones, and the "Super-resolution" technology to enjoy videos with various resolutions mixed (as some television footage) on full high definition TV.

Related Posts:

This article was originally posted in Japanese at 12:50 Sep 26, 2008.