The high quality wallpaper of the design such as "JOJO" and "DEATH NOTE"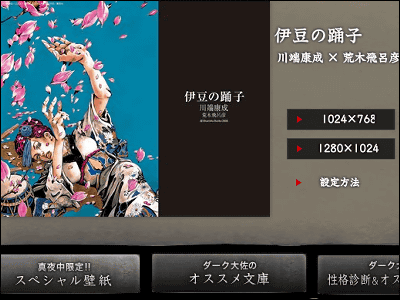 Shueisha transmits drawn original wallpaper of Hirohiko Araki (JoJo's Bizarre Adventure) and Takeshi Obata (DEATH NOTE) in the midnight limitation of the Japan time.

Details are as follows...

Natsuichi 2008 - Shueisha

It happens to be different from the daytime when it accesses Natsuichi of this Shueisha library in the midnight of the Japan time after 0:00.

At 0:00. Though it is a seemingly normal top page.


A shadow came out after a short time. It clicks on the shadow.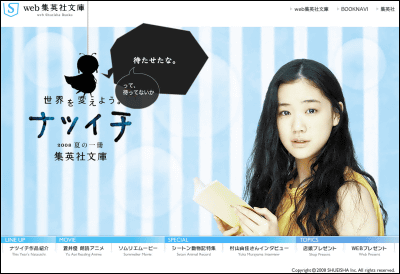 The world of the dark colonel.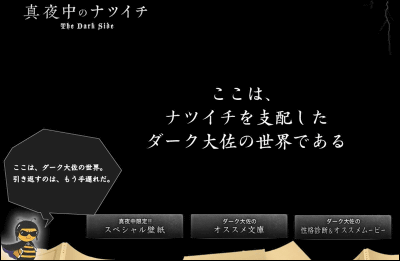 The wallpaper transmission page of the special cover that an eminent writer and a popular cartoonist gave a collaboration was found.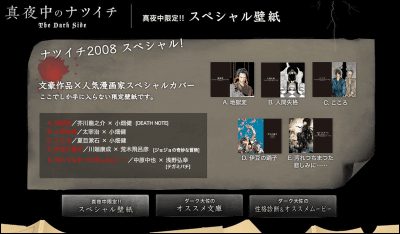 "Ningen Shikkaku (The human being disqualification)" of Osamu Dazai. A picture is Ken Obata of DEATH NOTE.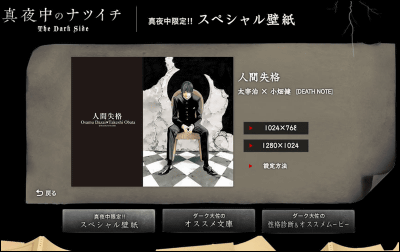 "Kokoro (The heart)" of Soseki Natsume. A picture is Ken Obata over here, too.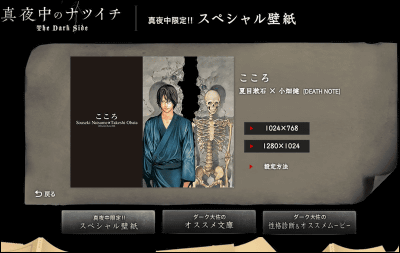 "Izu no odoriko (a nautch girl of Izu)". Whoever sees it how, a picture is Hirohiko Araki of "JoJo's Bizarre Adventure".