"Umineko no naku koroni" being adapted to TV animation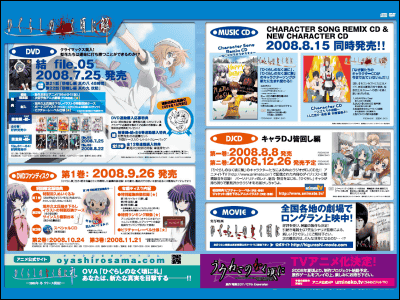 Dojin game "Higurashi no naku koroni" written by "Expansion 07th" made a smashing hit concluded with becoming comics and animations. Now the same author's "Umineko no Naku Koro ni(When Seagulls Cry)" is going be adapted for the TV animation.

The story contains violent matelial like grotesque murder. There's a little possibility to fail the rating. Can it really be available?

Detail follows.

(Japanese)(PDF)Media Infomation vol.19(2008 summer)

On the magazine "Media Infomation" of FRONTIER WORKS, the author officially revealed the adaptation of dojin game "Umineko no naku koroni". A production launch scheduled in 2008 summer. Author encourages game fan to go over former ones to prepare for this fearsome murder mystery.

Official site will be established in the following URL.

http://umineko.tv/

This article was originally posted in Japanese at 11:48 July 14, 2008.
in Anime, Posted by darkhorse_log