Do we now need a Male-Only Car?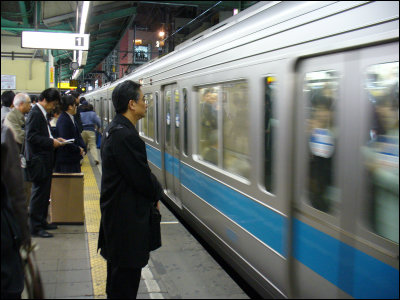 (This article was originally posted in Japanese at 00:00 Apr. 29, 2008.)

This February, some college students framed a man on groping in order to get the settlement money, on Osaka subway Midosuji line.

Female-only cars are meant to protect female passengers from gropers on the train. To prevent false accusation of sexual crime, do we need male-only cars as well?

We interviewed major railway companies in Tokyo area.
We interviewed ten railway companies on phone. All ten have already introduced female-only cars on some of their route.

These are the questions we asked.

1. Is there any plan of introducing male-only cars, after the false accusation incident?
2. Has there been any request for a male-only car?

These are their replies.

JR East
1. Nothing is planned at the moment.
2. There are some such requests from male customers, while some female customers say they're glad we have female-only cars.

Tokyo Metro
1. Nothing is planned at the moment.
2. No such request was made.

TMBT(Toei Subway)
1. No plan at the moment.
2. Not that I know of.

Odakyu Electric Railway
1. There are no such plan at our company.
2. There are some requests coming to Customer Center.

Keio Corporation
1. Both Keio line and Inokashira line have no plan of introducing male-only cars.
2. Sometime there are requests for male-only cars by passengers.

Keihin Electric Express Railway (Keikyu)
1. We have no plan at the moment.
2. We don't know how many but they are coming.

Keisei Electric Railway
1. No plan at the moment.
2. Since we're not making survey we can't tell the exact number, but there are some.

Seibu Railway
1. There are no plan at our company.
2. Some request came.

Tobu Railway
1. There is no plan for now.
2. There were few.

Tokyu Corporation
1. There are none.
2. Several requests came.

Though there have been a few requests, none of the companies have specific plan of "male-only cars" at this moment. The idea of introducing male-only cars to prevent false accusation seems to be impractical, but as there are a lot of male passengers who would keep their hands raised on a crowded train for the fear of being mistaken as a molester (and it is tiresome), there must be potential demand.

Related Posts: